The Creative Excellence that is IB Art
  IB Art students put in hours of work to construct the best product within their ability. IB Art is a two-year course that takes one through the learning processes of art history and several techniques. As a senior in IB Art, the unique opportunity to create a piece in an exhibit is given.
   Art pieces from each senior in the IB Art class were featured at the March 17th exhibit. The exhibit takes place in the media center and artwork is displayed for days after the exhibit takes place. When speaking with IB Art junior Aracely Gomez, she says, "It was lively, and a lot of people were focused on every art piece." She continues by saying "There was dedication from the audience to understand each individual piece… It was fun to help set up food and be able to observe people happy and engaged in the art."
   As for the IB seniors, they set up their pieces days before and write out descriptions of their artwork as well as a "curatorial rationale that explains why they decided to display their work." Both the jazz band and string quartet attended to play music and "contribute to the ambiance," says IB Art senior MB Nobles who had a piece in the exhibit. MB's piece is "a series about the Central Park five case, depicting their arrest and trial," and is a set of "three pieces done in charcoal." MB also mentioned that her favorite piece in the exhibit was "Kalaiya's photography project." Kalaiya's message "was about how children's creativity diminishes as they go through school, and she photographed different chairs representing different stages of childhood. She lit the chairs on fire to demonstrate the destruction of creativity along with self-esteem."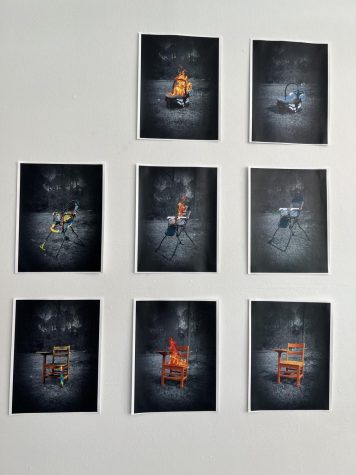 These photos were taken by Senior Kalaiya Corbin and was MB Nobles' favorite piece.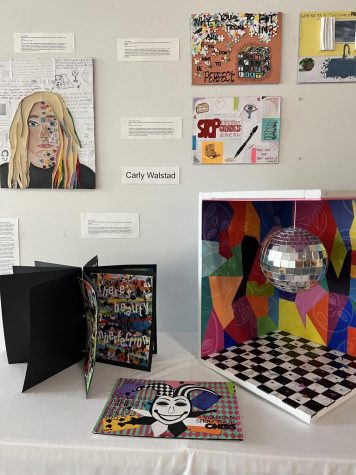 Senior Carly Walstad Focuses her pieces on a need for perfection in the education system.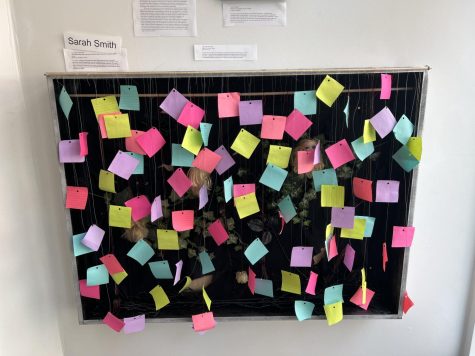 Senior Sarah Smith creates a shadow box that "depicts the manic side of depression."
   The exhibit included art from nearly 20 students featuring differing themes and mediums to encompass the event. Some mediums used were charcoal, colored pencil, sculpture, acrylic, and collage. MB speaks for the whole class by saying that "it was really rewarding to see people view and connect with the work we've done over these last two years." The exhibit gives the IB Art seniors a way to present their hard work to the public, the IB Art juniors who help with set up and clean up get to experience something new and receive volunteer hours, and the audience is able to take in the excellence that is IB Art.