Music Now!: New and Rising Country Artists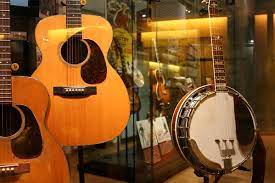 Country music is constantly growing, and with that, comes new talented artists. Normally, these new artists do not get enough attention, especially from the radio, as they only play songs from popular artists. It is time that someone gives these talented people the recognition they deserve and to share their success with everyone. Junior Hannah Olson shares how she finds new country artists: "I find new country music through social media, my siblings, and the radio. I love to follow country music artists on social media because they're always supporting and promoting new music from themselves and other artists!" The Cat Talk would like to present the following artists, in hopes that they will finally have a chance in the spotlight.
  Since his senior year of high school, Dylan Marlowe has gotten involved with country music and has written his own songs. In April 2020, Marlowe signed a publishing and development deal with Dallas Davidson's Play It Again Music Group, and he has put together a collection of original material. Since then, he has released eight singles, including popular songs such as "When I Look Back," "All About It," and "I'll Keep The Country." Currently, he is on tour with country singer, Dylan Scott, on the Livin My Best Life Tour. 
  Because he has lived in Nashville Tennessee for his entire life, Conner Smith was always drawn to the country music genre and began writing songs at the age of six. During his high school years, he found himself working with chart-topping songwriters, while juggling his schoolwork. His popular and recent songs are "Somewhere In A Small Town," "Didn't Go Too Far," and "Why I Can't Leave." Smith will be going on tour with Parker McCollum on Thomas Rhett's Bring The Bar To You Tour.
  When everyone was laying low during COVID-19, Parker McCollum earned his first chart-topping song "Pretty Heart." In November 2020, McCollum's Hollywood Gold EP became the highest-selling debut EP of the year, and he recently released his new album Gold Chain Cowboy during summer of 2021. McCollum joined Dierks Bentley on his tour in late 2021 and has begun his own tour at the start of 2022. A few of his popular songs include "Pretty Heart," "To Be Loved By You," and "Why Indiana."
  Growing up in a music-loving family, Lily Rose has always had an interest in the country music world. When she began writing her own songs and preparing her own musical style, Rose was only 15 years old. Playing open mic nights in college led Rose to realize that is exactly what she wanted to do for a living. Rose released her first album in 2021, titled Stronger Than I Am, that features her popular songs: "Know My Way Around You," "Stronger Than I Am," "Remind Me Of You," and "Villain." Currently, Rose is opening for Chris Lane on the Fill Them Boots Tour.
   From an auto parts salesman to a career in country music, Kameron Marlowe started his journey by competing in NBC's season 15 of The Voice. After making his permanent move from his hometown in North Carolina to Nashville, Tennessee, he made friends with fellow cast mates that were well-acquainted with Nashville. Marlowe's debut single, "Giving You Up," was released in June of 2019 and has become very popular. His top singles are "Giving You Up," "Steady Heart," and "Burn 'Em All."
  Unlike other artists, Jameson Rodgers only found interest in becoming a country singer when he was nearly done with college. Upon moving to Nashville, he never stopped pushing and found himself entering a publishing deal with River House Artists/Columbia Nashville. Rodgers was also one of the openers for Luke Combs' 2019 tour. Since his debut single "Some Girls" was released, Rodgers has partnered with very well-known artists like Luke Combs and Hardy. A multitude of his songs have been released in the past year and have become his popular ones: "You Won't," "My Kinda Livin," and "Porch With A View."
  From being runner-up on American Idol in 2011, to being a well-known star in country music, Lauren Alaina has definitely worked her way toward the top. Since her debut single, "Like My Mother Does," Alaina has teamed with multiple popular artists and has created a number of the best duets in country music. One of her songs that has gotten a lot of attention is "Road Less Traveled." A few duets that Alaina has participated in are "Getting Over Him" with Jon Pardi, "Town Ain't Big Enough" with Chris Young, "What Ifs" with Kane Brown, and "Thinking 'Bout You" with Dustin Lynch. It is pretty obvious that Lauren Alaina has definitely worked her way to becoming the go-to duet partner in country music. 
  Another American Idol star, Gabby Barrett, debuted her singing career by placing third in the16th season of the series. Barrett broke a record in the country industry as her debut single "I Hope" became the first song in the Top 10 Hot Country Songs from an unaccompanied woman. "I Hope" captured the fans of country music and even a few pop fans, helping to accelerate her future in the country music industry. In 2020, Barrett released her first album Goldmine that features more of her exceedingly popular songs: "The Good Ones," "Pick Me Up," and "Footprints On The Moon." Barrett has also gone on tour with famous country star Thomas Rhett on his The Center Point Road Tour, and until recently, it has been confirmed that she will be opening for Jason Aldean this coming summer on his Rock N' Roll Cowboy Tour.
  Drew Parker's love for singing started out when he was a child through his local church singing group. Although he might have gotten straight into the music field when he moved to Nashville, he worked his way from being an x-ray tech to a country music star. His well-known, famous song is "Homemade," where he co-wrote it with Jake Owen to later become Owen's number one single. Since then, he has gotten a publishing deal and has recently released his first EP entitled, While You're Gone, that includes an eight-song collection. Parker recently opened for Luke Combs in his What You See Is What You Get Tour.
  Country music has and always will be a popular music genre, but the only way to keep that going is to recognize new and rising artists. These artists have worked their whole lives to get to where they are now, and they deserve to be recognized and promoted. Therefore, if the radio stations will not do this, the Cat Talk staff will provide you with these new, amazing country artists. If these artists do not ring a bell, go ahead and give their music a listen, and who knows, someone might find their new favorite artist.