The Grammys Fashion 2022: Slay or Throw Away?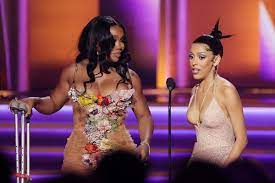 The 64th annual Grammy Awards was an exciting night with endless jaw-dropping outfits! Trevor Noah hosted in Las Vegas at the MGM Grand Garden Arena. From gorgeous gowns to disappointing dresses, the 2022 Grammys had a wide range of looks. Celebrities stepped out of their comfort zones this year, but did their looks slay or were they better to throw away?
  Starting off golden, Dua Lipa showed up in a black and gold 1992 vintage Versace gown. She paired it with gold chunky jewelry and certainly slayed the red carpet. Leon Bridges gets a gold star for his white flare leg suit that was covered in gold stars. The white and gold boots perfectly tied his outfit together! Killing it in a retro black and white dress, Lady Gaga dressed for her new movie, Love for Sale. Her dress was simple but elegant, with a long, white train being the icing on the cake. Slaying the fashion game as always was Billy Potter in a pink Valentino suit. He paired the stunning pink suit with reflective silver shoes and a bold lip. Another celebrity who looked amazing in pink was Chrissy Teigen. She rocked a bubblegum pink ball gown covered in ruffles that perfectly matched her upbeat personality. Doja Cat and SZA both had gorgeous dresses to celebrate their album together! Doja Cat's aqua Versace "barely there" look certainly stole the spotlight from everyone. SZA also had a show-stopping dress, the fit and flare shape perfectly complimenting the embroidered flowers. St. Vicent graced the red carpet with her whimsical pink gown. The iridescent fabric and endless ruffles made her outfit top them all!
  While fashion is an artform, some celebrities really just missed the mark. Opening up the throw away looks strong is Tayla Parx with her green spiked outfit. This somewhat comical costume was simply not pleasant to look at, so it gets first place in the throw away category. Travis Barker and Kourtney Kardashian's outfits managed to be underwhelming and too much at the same time. The pair wore all black outfits, but attention was taken away from Kourtney by Travis's obnoxious hot pink jacket. A celebrity who usually kills the fashion game was Megan thee Stallion. Her one-strapped cheetah print dress was such a let down compared to her previous looks. Dillion Francis decided to show up in a t-shirt and black skinny jeans, holding a grocery bag. There was no bold statement attached to his look however; he simply just wore what he wanted. We see again and again men showing up to high profile events in clothes that are far too casual, so this look is a throw away! Michelle Zauner took bravery to a level with her yellow mini dress that closely resembled a bag of potato chips. The white sandals and lack of accessories definitely did not help her look. These fashion flops would look better in the trash than on the red carpet.