Style File: Best Coachella Fits
  Coachella is a music festival held in Indio, California, where people come from all over to watch some of the year's most popular and upcoming artists. However, one thing that sets Coachella apart from all the other music festivals is the extravagant outfits the festival-goers wear. This year some notable outfits were worn by Vanessa Hudgens, Paris Hilton, Storm Reid, and many more. They each wore pieces that pushed fashion to all new limits.  Retro design sets to sheer bedazzled tops were all present at Coachella this year.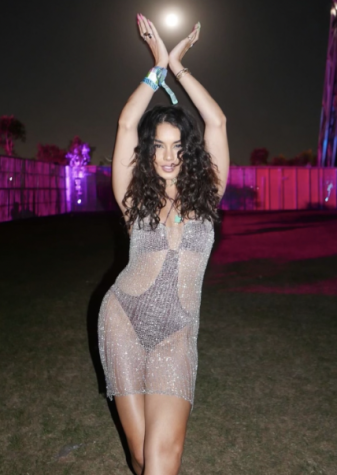 Image from @vanessahudgens on Instagram
   Star of High School Musical Vanessa Hudgens shows out at Coachella every year. Not only does she fit the trends of the year's event, but she makes the looks her own. In this image, she is wearing a sparkly sheer slip dress over a cut-out one-piece bikini. This look was to fit the day's theme "swimwear." 
   Sheer slip dresses like these were very popular at this year's festival. This style is gorgeous and just the right amount of scandalous. Vanessa Hudgens pushes the boundaries in the most beautiful ways, making her one of the queens of Coachella.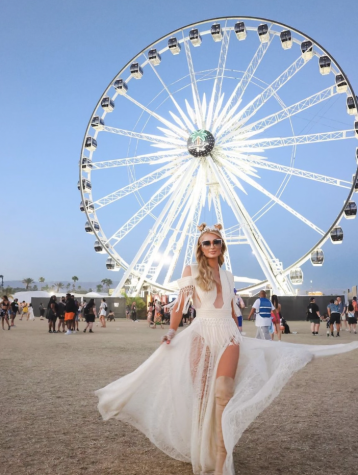 Image from @parishilton on Instagram
   Style Icon Miss Paris Hilton struts in her monochrome bodysuit, and dress combo. Her pairing with tan thigh-high boots looks elegant, even though she is in the middle of the desert. The fringe adds a festival feel while the flowy lace skirt and plunging neckline add class. Hilton, like Hudgens, kills Coachella each and every year as well. 
   Monochrome outfits are another major trend this year. Musical Artist The Weekend even wore a monochrome outfit at the festival. Hilton's look brought everything one could want in a Coachella outfit. It was simple but had a detail that is only noticeable when closely examined. It is the perfect balance of showy and subtle. Hilton easily makes the list of Coachella Queens.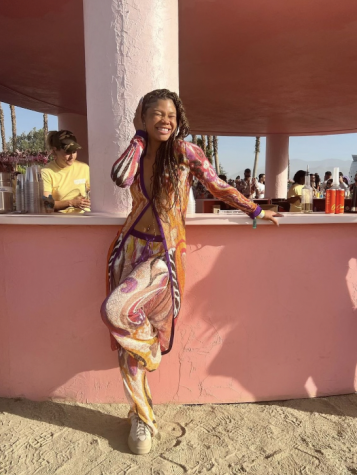 Image from @stormreid on Instagram
   Popular Actress Storm Reid brought patterns and matching sets to another level. Not only did the colors and fabric perfectly embody the boho vibe that Coachella has, but it has a level of simplicity that challenges those who went all out. The pattern is eye-catching and the matching set is a trendy pick.
    Matching sets can be seen all over the desert during Coachella this year, and so can flashy patterns for that matter. A big splash was made by several festival-goers when it comes to fancy pants, yet Reid was able to tie in two attractive styles and make it work beautifully and with a smile.