Millbrook Best Dressed at Prom
 Millbrook High School Prom was such a fun event with many amazing outfits! Cat Talk collected pictures of some of the best dressed students on the magical night. Prom trends come and go throughout the decades, but these Wildcats wore looks that certainly will not age out. Everyone looked so good in their prom outfits, so here are a few highlights!
   Madison Solomon and Ceejay Jordan are both incredibly fashionable, so it was no shock that they absolutely killed it at prom. Their bright orange and navy color scheme was so fun and unique. Madison perfectly pulled off an orange beaded dress with cutouts in the back. Ceejay's navy suit and white boutonniere perfectly matched her fun dress and personality. Madison says, "I wanted my dress to represent how excited I was about prom, so I looked everywhere for bright orange."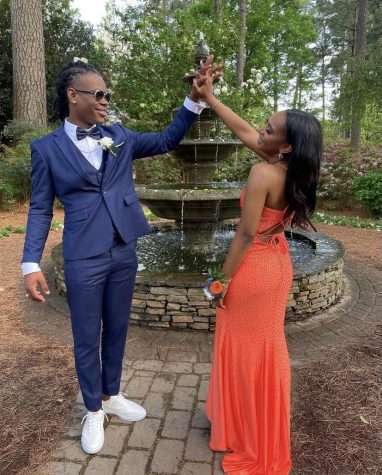 Emily Irrazabal's emerald green dress was cute and classy. The look was perfect for prom 2022 and stood out while keeping it simple. The straight fit and textured fabric gave it such a distinct look.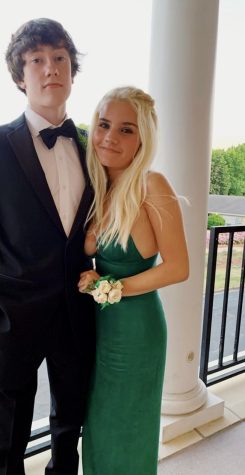 Bailey Daniels showed up to prom in a black and red suit with a Gucci belt. His outfit was amazing and the photography perfectly enhanced it. The car and sunglasses really made him look like a star. 
Shocking no one, Sheridan Ely and Samuel Baguette graced us with their fashionable look as always. Sheridan's ethereal red gown and Samuel's western suit went together so well. The gold arm bangles and the traditional neck broach made their attire pop!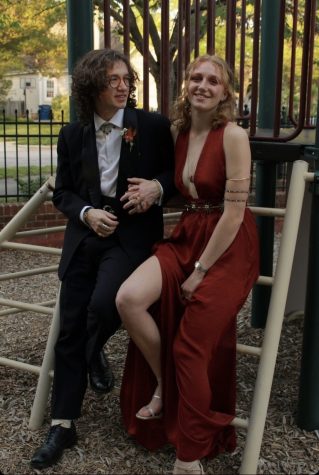 Mia Palma's whole outfit was beautiful, from the classic white dress to the pearls in her hair, she was the essence of style. Mia says she "wanted to do something simple but classy." She actually did the pearls herself as a last minute idea to spice up the look.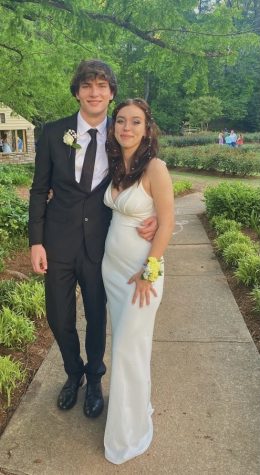 India Amore looked fabulous in her white feathered dress with a stunning open back. The sunglasses and hoops really pulled the look together.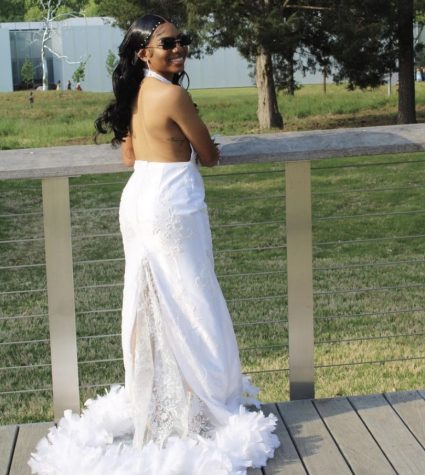 MK Boone's white dress was stunning, covered in sequins. "That was actually the first dress I tried on and I just loved it so much. All the dresses I tried on after just didn't compare!" Not wanting to take away from the dress, MK wore simple jewelry and tan Steve Madden shoes.  

  Jaylen Donaldson looked so good in his multi-colored suit. The detailed blue and orange suit was impressive to say the least. His shoes' vibrancy flawlessly tied the look together.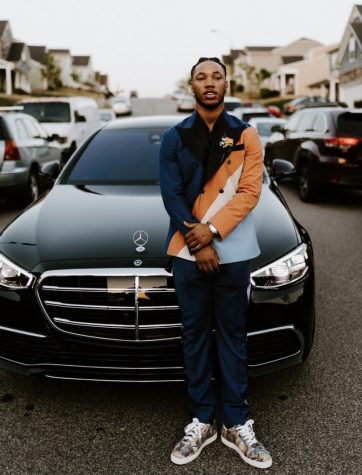 These best dressed students were absolutely glowing in their pictures and in the ballroom. While every wildcat looked amazing at prom, the real excitement was the smiles on everyone's faces!