Zach Bryan: Growing Star in Country Music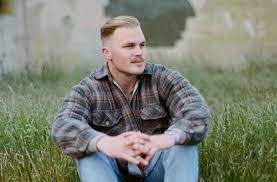 Zach Bryan went from serving his country to selling out concerts. The humble veteran is emerging into country music superstardom due to his infectious personality and raw vocals. Bryan was born in Okinawa, Japan, and grew up in Oklahoma in a military family. While serving Zach began recording videos of him singing around small groups, something he now does for VIP guests. Zach eventually posted these videos on YouTube.
In 2019, Zach caught people's attention when he posted "Heading South" on YouTube—and it went viral. In the middle of the night, pressing the record button on his phone, and drenched in sweat, Bryan poured out his soul. Despite looking sleep deprived and drunk, the Naval officer's vocals were fierce and powerful, they tugged on the heart of all the listeners. This song introduced millions of people to Zach Bryan and his music.
Later in 2019, from a horse stall and hung up blankets for a studio, Zach debuted his first album, DeAnn, named after his mother who passed away in 2016. Songs from the album include "Snow," "God Speed," and "Condemned" which continue to be very popular in 2022. Bryan's loyalty to his fans has been evident too, with country music losing lots of true stars to more radio and pop country and artists like Tyler Childers not producing music in recent years, Bryan's music has revived the industry.
Some fans were worried about Bryan switching to a more pop country when he signed with a record label before his 2021 album, "American Heartbreak." Record labels are notorious for altering the artist's brand by changing their style of music to fit the labels' wants and needs, which is especially evident in country music (Thomas Rhett, Taylor Swift). Bryan assured his fans he would not change his style of music even when he starts to branch out more on his music. The song, "If She Wants a Cowboy," from the "American Heartbreak" album pokes fun at the artists that switched to pop country by ending the song with auto-tune (which Bryan doesn't use). He adds an adlib to the end: "Alright boys, I'm leaving for the day, take it easy, That was mine, that was it, Throw it on the damn radio."
With exponential success, Zach Bryan continues to sell out shows. Ben Reynolds, a Junior at Millbrook got a chance to listen to Zach Bryan live when he went to a concert in September, he told me; "Hands down the best concert I've ever been to. I'm probably never going to spend that much money to see someone perform live again but it was 100% worth it." Piper Finch, a Senior here at Millbrook, is an avid listener of Bryan. I was able to ask her what Zach's songs mean to her, and she said; "I love Zach Bryan because of the quality of his music, so many artists these days don't seem to have the care that Zach does." Bryan has continued to gain fans just like Reynolds and Finch every day and he doesn't seem to be slowing down anytime soon. When Zach Bryan is on, everyone sings.