Black Friday Frenzy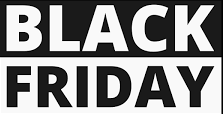 Lauren Jones, Co Editor-in-Chied and Editorial Director
November 22, 2022
  Thanksgiving is definitely a fun and amazing time to be around family and friends, but once that delicious dinner is over everyone heads straight into Black Friday mode. Black Friday is not only the best time to get your holiday gifts, but is also the most stressful day of the year. People either don't know what things they need, where to get it, or what stores have the best sales. Mrs. Jones, one of Millbrook's math teachers, shares her thoughts on Black Friday shopping: "Black Friday is the best time for me to get my Christmas gifts for my family, but the key to it is knowing what stores have the best sales beforehand." There is no need to stress this year because the Cat Talk has you in good hands this Black Friday.
  Whether it's headphones, smart watches, computers, or smart TVs, electronics are the top items that people shop for on Black Friday. Target is very aware that people love to get new electronic items each year and offer great deals on many items. These include up to 50 percent off headphones, TVs, soundbars, streaming devices, tablets, laptops, and printers; as well as savings on select Fitbit devices. Best Buy also has some considerable deals with savings on select Macbook and iPad Pro models, Amazon Kindle e-readers, and select Beats Studio3 Wireless headphones. 
  For all of Millbrook's athletic people, multiple stores will have various deals worth taking a look at. Foot Locker has definitely piqued people's interests by not releasing their specific sales, but they are giving people some excitement with their preview sales. In their Black Friday release statement, Foot Locker announced they would have huge savings on the latest "sneakers, accessories, performance gear and more." They will also allow customers to save on the classic looks and "all the hottest new drops" with various brands, including Nike, Jordan, Adidas, PUMA, Champion, and more. Lululemon has certainly captured many hearts from Millbrook students, as it is everyone's preferred workout clothing. However, Lululemon has not released their Black Friday deals yet, but customers can expect to see good deals on items and the "We Made Too Much" page. Normally, Lululemon will host a big sales event on Cyber Monday, so stay tuned to their website for more details closer to the date. 
  Senior Hannah Olson shares that she isn't "the biggest Black Friday shopper," but she loves finding good deals on clothes at Nordstrom as well as checking out what she can save on electronics at Best Buy and Target. So good news! Nordstrom is starting their Black Friday deals on Nov. 18 and they will be available in store and online. All the favorite clothing brands are guaranteed to have the best deals, including: The North Face outerwear, Nike activewear, jeans from top brands like AG, and many more deals to browse from Nordstrom's year-long items. Nordstrom is also having a Black Friday sale on shoes such as Hunter, UGG, and Tory Burch. No matter what you buy online, if it is not what you were hoping for then Nordstrom offers free standard shipping and free returns without minimums.
  Black Friday is always the best shopping day for holiday gifts, but it can also be the most stressful. With these Black Friday deals, the Cat Talk hopes that your stressful holiday shopping will be a little more calm this year. Keep these sales in mind while you're shopping online or in the middle of the Black Friday frenzy in stores!