Celebrity Hot Seat: Cannons Countless Kids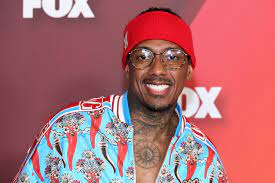 Nick Cannon recently announced the pregnancy of his 13th child, only eight days after announcing the birth of his 12th. In the past year, Cannon has had four kids with four different women and has announced the pregnancy of one more. Cannon is the current host of "The Masked Singer," the host of a comedy show "Wild 'N Out," and he is the host of Nick Cannon Radio. 
  The timeline of Cannon's 13 kids is complicated, but the majority have been born since 2020. His first children, Monroe Scott and Moroccan Scott were born in 2011 with singer Mariah Carey. Carey and Cannon were married from 2008 to 2016. 
  The year after their divorce, Cannon's third child was born. Golden Sagon was born in 2017 by Brittany Bell, an ex-girlfriend of Cannon. The timeline continues in 2020 when Powerful Queen was born by Britany Bell. 
  A year later, twins Zion Mixolydian and Zillion Heir were born. Their mom is Abby De La Rosa, who gave birth to the twins in June. A mere few days later, Alyssa Scott gave birth to kid number seven. Zen, born in June of 2021, who passed away at five months due to brain cancer. 
  After this, there were no kids born until the following June of 2022. Legendary Love came next. Legendary is the son of Bre Tiesi, a real estate agent and ex of Cannon. 
  The next two kids born in 2022 were Onyx Ice Cole, from mother LaNisha Cole, and Rise Messiah, from mother Brittany Bell. Rise made Bell's and Cannon's third child together.
   In early November, Alyssa Scott announced she will be having a second child with Cannon. The final addition to the current timeline is Zeppelin Cannon, his third child with Abby De La Rosa. 
  Sophomore, Emilia Castaneda thinks negatively of the situation and says, "I think he's insane. He needs to stop." 
  All of these women have views on Cannon and the situations with his kids. On the Lovers and Friends podcast, Abby De La Rosa discussed her relationship with Cannon. "I've always known the type of lifestyle he lived," she explained. "I was very self-aware of what I was getting involved in." 
  Tiesi did an interview with E News and shared, "I think some people have their idea of conventional relationships and certain things, but we have a beautiful relationship. Everything is so supportive and positive." Tiesi also told Daily Mail that all of the moms support each other. "I feel like everybody is focused on their own family and their own situation," she shared. 
  This inside of the relationships all seem healthy, but that doesn't stop celebrities and others from commenting on the situation. Ken Jeong joked on an episode of the masked singer, "I know Nick is tired. He's been up all night trying to memorize his kids' names." Later in the episode he continued, "This song goes out to my favorite fearless lady Nicole Scherzinger, who has had more famous exes than Nick has had baby mamas." 
  Cannon handles the backlash and comments on his children a lot. In a Men's Health issue in June of 2022, he shares, "Contrary to popular belief, I'm probably engaged throughout my children's day, more often than the average adult can be." Sophomore Sophia Martinez disagrees with Cannon's line, commenting, "He will not be able to provide for his children and be a good father to all of them, if he has that many." 
  No matter how many more announcements are made and kids are born, Cannon will probably continue this lifestyle. If he can emotionally and physically provide for all of his children, the kids will continue to come.