The Roller Coaster of Superbowl LVII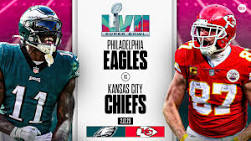 With the 2023 Super Bowl between the Philadelphia Eagles and the Kansas City Chiefs coming to an end with a close final score being 38-35, there is a lot to cover. Viral videos of fans all around the globe using their television as a punching bag from the rollercoaster of emotions from the most recent Sunday night matchup (2/12/23). 
  The game started off hot with both teams answering each other scoring back to back making the score 7-7. Eventually, Jalen Hurts and the rest of the Eagle's offense would play a near-perfect half of Sunday night football. Eagles head coach Nick Sirianna simply had Andy Reid's defense in shambles out coaching them. Hurts would put up an almost perfect half putting up 17/22 183 passing yards and 63 rushing yards and a couple of touchdowns. With the Chief's slow start and quarterback Patrick Mahomes's high ankle sprain, some thought it was already over with the first-half score being 24-14.
  Despite all odds against Kansas City they pulled together a faultless second half and are now Super Bowl champions just 30 minutes after Rhianna's halftime performance. How did they do it? They took advantage of Phili's defense. The Eagles had a top defensive unit all throughout this year but completely folded in half in the second half. Patrick Mahomes and the rest of the Chief's offense were extremely effective in the red zone taking advantage of the Eagle's man-to-man defense. By using motions and more specifically fake jet sweeps and small adjustments to create leverage or unfair matchups. For example, Kansas City would motion the receiver taking the safety that originally was over the receiver and forcing him to drop back to the other side This allowed for a 1 on 1 matchup and plenty of separation of the bubble route ran by the running back creating an easy score. Another example is when they make small formation adjustments. The first-quarter touchdown reception by Travis Kelce was created by a simple motion adjustment. Mahomes essentially directed Kelce to stack over Marquez Valdez-Scantling creating a mismatch. Originally top cornerback Darius Slay was over the top of Kelce but the simple motion put safety Marcus Epps 1 on 1 with Kelce creating an easy early touchdown for the Chief's. 
  Another way Andy Reid took advantage of Philly's defense was through effective first-down conversions. In the second half, they nearly had a perfect first-down conversion rate converting 93.8% of their first downs. It would have been 100 percent if running back Jerick McKinnon didn't stop at the 1-yard line to run the clock out and set up the game-winning field goal. Towards the end of that drive the Eagles were penalized for holding and most Eagles fans were furious with the call because they believed it cost them the game. 
  Despite the ups and downs of this crazy Super Bowl performance, it was still a historic one to be remembered. With a lackluster playoff journey all ending in blowouts, it was great to see such an entertaining Super Bowl.