One Last Celebration for the Class of 2023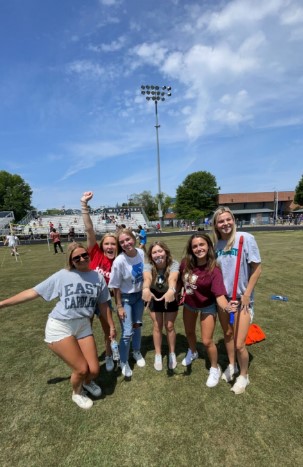 Carter Ramey, Co-Editors in Chief and Social Media Director
May 25, 2023
  Each year after following the senior assembly, there is a senior picnic for one last gathering for the seniors. Senior assembly recognizes seniors and awards are given out. Then following this, the seniors change into their college t-shirts  and have a picnic in the stadium. 
  They get to enjoy sub sandwiches, chips, and sunset slush. After eating all together the field is opened up and there are a lot of fun activities for the seniors to play and be in each other's company one last time at Millbrook. There are also competitions like a three-legged race, limbo, and hula hooping. These competitions were taken very seriously because the winners got prizes. Tyler Vereen and Xaxier Pugh won the three-legged race, Ian Rembert won limbo, and Jeremy Ayuk-Takem won hula hooping. The picnic was an overall success and truly enjoyed by everyone.
  The seniors this year are the 100th class to graduate from Millbrook and this last celebration was very special to them. Peyton Weathersby said, "The picnic was a great memory that I will never forget. It is also sad that this is the last time we were all together at Millbrook." While everyone will be moving on to college this fall, the senior picnic was a great way to send everyone off. Senior picnic is something that means a lot to the students and that allows them to have one last opportunity to be together. Thank you to everyone behind the scenes of the senior picnic! Congratulations Class of 2023–Millbrook will miss you all!