This Week in Sports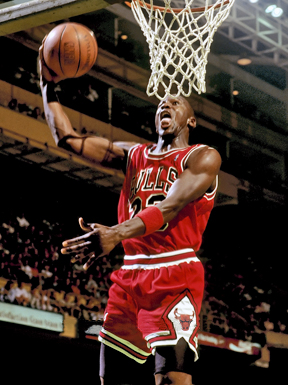 May 15, 1941
 Joe Dimaggio, of the New York Yankees, hit a single in the bottom of the first inning; driving in the Yanks' only run of the game against the Chicago White Sox on May 15, 1941 . Although this may seem like a very minor event, this marked the beginning of one of the most untouchable records in baseball history. Joe Dimaggio started his 56 game hit streak on this day. It was is so substantial that the second closest one is 11 games away! This record seems to be one of those that will last for an eternity with no one even coming close to breaking it.
May 16, 1985
 Arguably the best basketball player in NBA history broke into the league in the 1984-1985 season on this day. This player is Michael Jordan, and on this day he won the first of many trophies in his career; the NBA Rookie of the Year. Sophomore Connor Jordan said, "Him winning the Rookie of the Year was just one of many of his amazing accomplishments in his historic career."  This was all just the beginning though, and many still could not imagine what was still to come for this young phenom. This honor was the first of many as MJ went on to win 5 MVP's, 6 titles, and won the NBA finals MVP in each of those championship wins. That first Rookie of the Year trophy was also the beginning of a record he still holds today for the most trophies all-time individual and team. He has 22 and the next closest has 17!
May 17, 1875
 History and tradition were started on this day back in 1875 as one of the longest standing American sporting events was first held this day. The first Kentucky Derby was held and was won by Oliver Lewis aboard Aristides in a time of  2:37.75. Since this event has become a staple in America, many people look forward to the running of the race. Even professional athletes like Cam Newton have been spotted at the races. There is also large gambling following behind the event which rises the excitement level of it for many.