Lights, Camera, Action: Strong female leads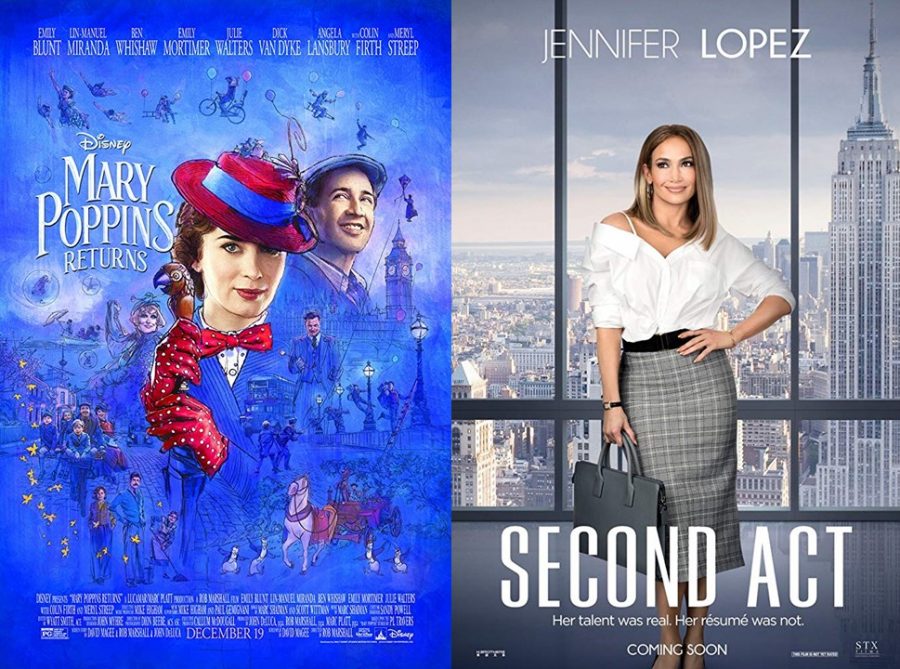 In cinema history, movies starring a strong female lead were practically unheard of. Within the last few years, movies starring women with marvelous acting skills and complex storylines that capture the hearts of viewers have been released more frequently. Mary Poppins Returns and Second Act are two new highly anticipated movies starring strong female leads that were released this December.
 Fifty-four years after the Disney's iconic film Mary Poppins was released on the big screen, the "practically perfect" nanny is flying back into theaters in Mary Poppins Returns. Set twenty-five years after Mary Poppins left the Banks family, Mary Poppins returns to visit Jane and Michael Banks as they deal with the sudden death of Michael's wife. Mary Poppins sets out to restore the joy in the dispirited siblings and help Michael's children find happiness in a fun adventure. The film stars the highly acclaimed actress Emily Blunt who brings the strong and witty character Mary Poppins to life. The motion picture also has a new soundtrack along with revamped songs from the 1964 original and is rated PG. If you want to see this new musical fantasy movie that will leave you wanting a "spoonful of sugar" and stars a strong heroine, make sure to catch it in theatres now.
 Second Act which is a brand new romantic comedy that was released this December should be on everybody's must see movie list. This film takes place in Manhattan, New York, and follows forty-year-old Maya, as she struggles with frustrations from unfulfilled dreams. When she gets the chance to prove herself, she uses her prior knowledge from being a maid to prove that street smarts are just as valuable as book smarts when it comes to making it in New York. This film stars Jennifer Lopez who plays the funny and independent Maya. The cast also includes Vanessa Hudgens, Leah Remini, and Milo Ventimiglia. If you want to see this PG-13 film that will be sure to make you laugh through its relatable humor, make sure you see it in theatres today.
 Watching these two films is a perfect way to spend your winter break. Additionally, they also showcase strong female leads which inspire many women around the world by having an intelligent and relatable protagonist. Sophomore Madison Morgan pointed out, "Strong female leads in movies inspired me to be strong because of the powerful messages they carry. In every film with a strong female lead, they all prove that a female lead movie can be just as good, if not better, than a movie with a male lead!"