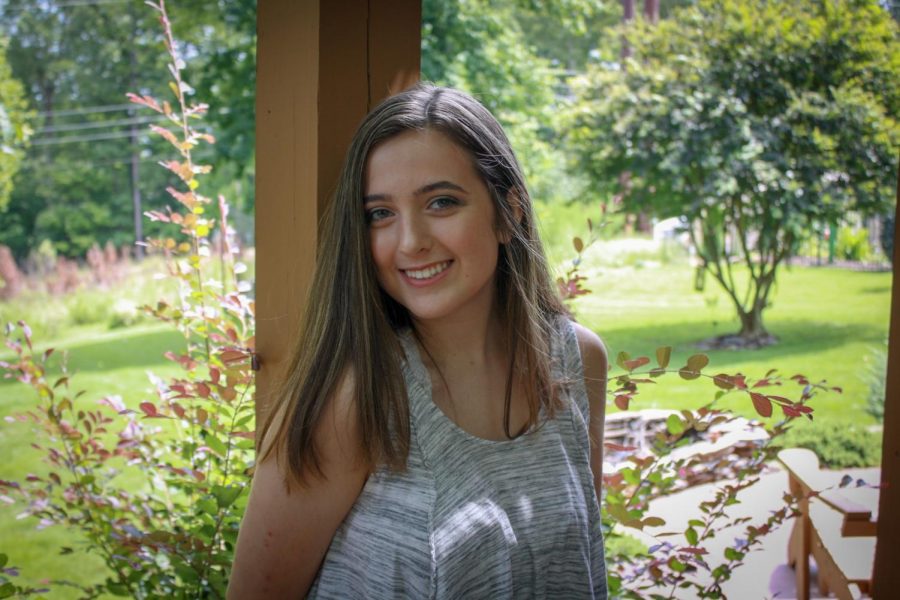 Hi,
Cat Talk 
readers! My name is Summer Anderson, and I'm a senior at Millbrook High School. This is my third year on the
Cat Talk
staff. I have loved writing my whole life, and my dream is to study journalism. In my free time, I enjoy spending time with friends and family, going to Younglife, and reading horoscopes. I have 3 dogs named Bella, Finn, and Maggie. I also have a cat named Muffin. Thanks for checking out the
Cat Talk,
 and I hope you enjoy my articles.
Summer Anderson, Entertainment Editor
May 24, 2020

Lights, Camera, Action: Movies that deviate from the original

(Story)

May 18, 2020

Honoring the cast and crew of Anything Goes

(Story)

May 18, 2020

Coronavirus affects entertainment industry

(Story)

Apr 24, 2020

Fun and effective at-home workout ideas

(Story)

Mar 19, 2020

TV shows to binge-watch over break

(Story)

Feb 18, 2020

The ups and downs of working during high school

(Story)

Jan 03, 2020

Tensions rise as the United States claims responsibility for fatal Iran attack

(Story)

Dec 18, 2019

Lights, Camera, Action!: Must-see movies for winter break

(Story)

Nov 20, 2019

Millbrook's Theatre Department presents The Bad Seed

(Story)

Nov 04, 2019

Lights, Camera, Action!: Delightful detective movies

(Story)

Nov 04, 2019

Underrated off-campus lunch spots

(Story)

Oct 08, 2019

Millbrook gets spooky

(Story)

May 22, 2019

Lights, Camera, Action!: Summer movies to escape the heat

(Story)

May 03, 2019

Showcasing Millbrook's IB theatre classes

(Story)

Apr 28, 2019

Celebrating Wildcats who serve

(Story)

Mar 21, 2019

Dance and drama Wildcats visit New York

(Story)

Mar 20, 2019

That's What She Said- Sea World: Much more than an amusement park

(Story)

Mar 20, 2019

Lights, Camera, Action: Kid at heart movies

(Story)

Mar 16, 2019

New Zealand mosque shooting leaves dozens dead

(Story)

Feb 20, 2019

Happy National Love Your Pet Day

(Story)

Feb 02, 2019

Black History Month FYI: George Crum

(Story)

Jan 23, 2019

Oscar Nominations 2019: Did your favorites make the list?

(Story)

Jan 07, 2019

The myth of Area 51

(Story)

Dec 19, 2018

Lights, Camera, Action: Strong female leads

(Story)

Dec 19, 2018

The truth behind holiday superstitions

(Story)

Dec 07, 2018

Where are they now?

(Story)

Nov 13, 2018

Millbrook gets spooky in the fall play

(Story)

Oct 29, 2018

Millbrook Wildcats attend the North Carolina State Fair

(Story)

Oct 29, 2018

Lights, Camera, Action: Halloween movies

(Story)

Oct 19, 2018

Lights, Camera, Action!

(Story)

Sep 26, 2018

The devastating effects of Hurricane Florence

(Story)

May 22, 2018

Getting ready for a summer of entertainment

(Story)

May 22, 2018
May 14, 2018

The reality behind fake deaths

(Story)

Apr 01, 2018

Hot style trends to hop on for Spring Break

(Story)

Mar 19, 2018

The shocking truth about the nutritional value of school lunches

(Story)

Mar 16, 2018
Mar 16, 2018

Slice of pi, anyone?

(Story)

Feb 13, 2018

Celebrating Mardi Gras

(Story)

Jan 31, 2018

What Disney movie are you?

(Story)

Jan 22, 2018

Students depend on school meals

(Story)

Jan 22, 2018
Dec 22, 2017

Carolina Panthers for sale brings trouble for the NFL

(Story)

Dec 04, 2017

Campus Clubs: NHSDA

(Story)

Oct 26, 2017

Trump's Refugee ban ends after 120 days

(Story)

Oct 24, 2017

Campus Clubs: The robots are coming

(Story)