Tensions rise as the United States claims responsibility for fatal Iran attack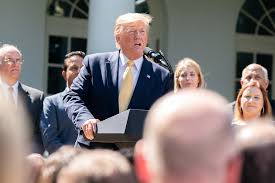 Early Friday morning, President Donald Trump authorized a United States drone to strike Baghdad International Airport, killing one of Iran's military commanders, Major General Qasem Solemani. So far six people who were traveling with the commander at the time have been declared dead due to the attack, in addition to Abu Mahdi al-Muhandis, another military leader. Solemani was known for being head of the Islamic Revolutionary Guards Corps. The Trump Administration claims that he was an immediate threat to the safety of Americans and blames him for several other attacks on Americans in the past few months, including an attack that killed United States citizens and a contractor. He is also blamed for a strike that killed people on December 27, killing hundreds during his time as commander, and most recently, the attack on the US Embassy in Baghdad on December 31. The strike was carried out by a drone carrying a missile that attacked the vehicles they were in at the time. Later Friday morning, Iran declared that this attack would not stand. 
  When the news of the attack reached the Iran government, three days of mourning were declared in Iran. This means that Iran is recognizing the significance of his death by three days of national recognition through memorial services and funerals. In Tehran, the capital of Iran,  thousands of protesters marched in honor of the dead commander. The protesters carried signs with pictures of Solemani and anti-American phrases. The leader, Ayatollah Ali Khamenei has declared this as an act of terrorism and claims that they will retaliate for his death. Due to this, the United States government has urged United States citizens to leave Iran immediately. Additionally, because of the attack, oil prices worldwide have increased drastically, including an increase of three dollars in Hong Kong just hours after the event. 
  On Twitter, President Trump made remarks about how the attack was necessary to prevent a war and that it was what was best for Americans. Friday afternoon, he warned Iran not to retaliate. The Pentagon said that they are deporting over 3,500 additional troops to the Middle East due to this tension. Some of these troops will be coming from Fort Bragg, located in Fayetteville. Hashtags on Twitter including #WorldWarThree, #TrumpsWar, and more have been trending and increasing fear due to the attacks. Whether or not this conflict will continue, it is certain that the relationship between Iran and the United States has changed forever.