Sport of the Month: Men's Basketball
Hang on for a minute...we're trying to find some more stories you might like.
  As the basketball season is gearing up, the Millbrook men are looking stronger than ever. Home to the team with the longest consecutive North Carolina High School Athletic Association playoff appearance, the Millbrook players are expecting a season of even greater success to come. The beginning of game play this month has proven that the Varsity Wildcat men are strong contenders for this year's state championship. Yet, while most teams choose to dismiss talk of a potential state championship win, Millbrook Men's Basketball embraces it. Coach Davis, who is now the head coach of Varsity after twenty years at Millbrook, believes that in order to dream it, you have to be it. When asked about his team's odds, he stated simply, "I agree 100 percent about our state championship chances." He also exclaimed that talking about the odds of Millbrook winning is a good thing, and that it is not added pressure. Instead, the talk is fuel for his team.
  With ten returning players and many new Varsity members, the 2018-2019 team has a little bit of everything. Size, speed, and shooting ability are the top skills allowing this year's group to excel. However, this team does not gain their success on pure skill or talent alone. At 5:30 AM twice a week, you will find them putting in work at the gym. Their coaches are confident that in order to be great, you have to take a chance and do some things unconventionally. With a chance as big as the men have this year to be successful, the grind is what propels these boys to be their best.
  While men's basketball has a tight game and practice schedule, one thing they have placed a strong emphasis on this year is supporting other Millbrook teams. You may have seen them at your volleyball, football, wrestling, or women's basketball games. Coach Davis stated, "We've really embraced the aspect of being a part of everything this year, not just being potential State Champs." The team is continuing to make an effort to support as many other Millbrook teams as they can, in hopes of receiving the same support. Men's basketball players value the fans and their cheering more than anything, and they feed off of the energy that the crowd provides. Their goal is to always give the crowd something fun to watch and to encourage involvement amongst all of the student body by providing a reason for everyone to go and watch. That reason is their goal of living up to all expectations set before them and to be as good as they believe they can be. As stated by Coach Davis, "If we do what we're supposed to do, nobody can beat us."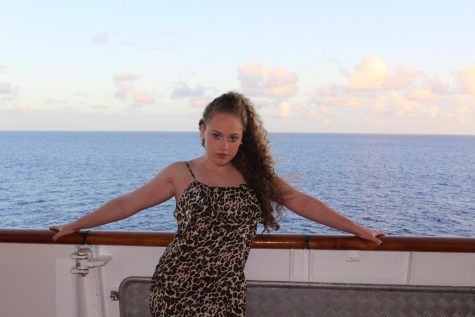 Janie Inscore, Staff Reporter
Hey Cat Talk reader! I'm so excited you found my page! My name is Janie Inscore, I'm a sophomore at Millbrook, and this is my first year on the newspaper...