Ms. Fritz wins Teacher of the Year award!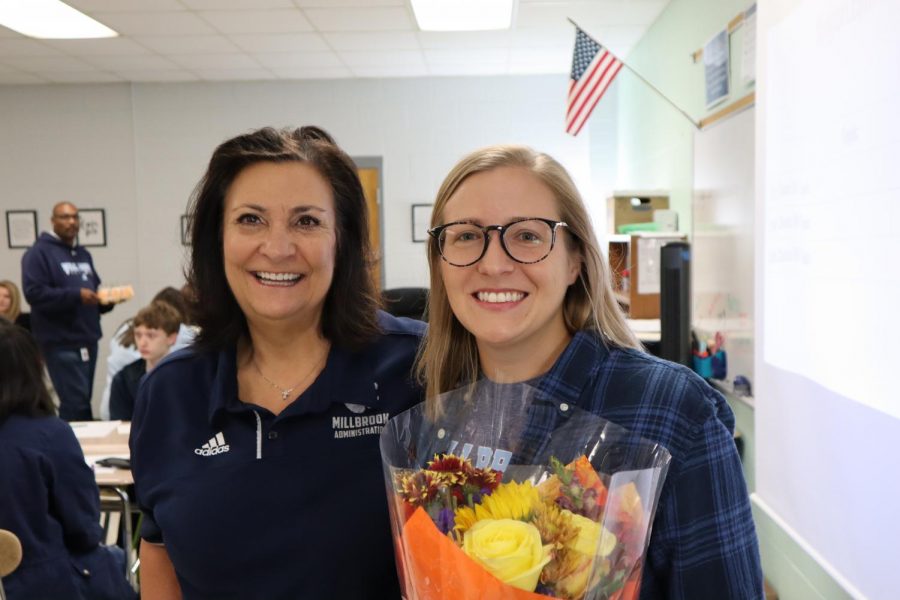 One of the most prestigious and honorable awards at Millbrook, the Teacher of the Year award has once again been given out, and this year the honor was awarded to… drum roll, please… Ms. Fritz! She has been nominated for the award numerous times, as there is a process in order to win. This process requires submitting the subjects you have taught, the clubs and student activities you have taken part in, your leadership roles, and perhaps the most important deciding factor as to who takes home the award, your teaching philosophy. Fortunately, Ms. Fritz's hard work and drive to best serve her students have finally paid off in recognition!
  "I think Fritz deserves the Teacher of the Year award because she has such a good heart, and you can really see her determination on trying to get us to be better students and people" are the words expressed by Will Mitchell, a junior cross country runner and student of Ms. Fritz. His words are demonstrated in her teaching philosophy, as she focuses on each student as an individual. Her primary goal is to empower her students to find their unique voice in speaking and in writing, a goal that she achieves by connecting with each junior and senior she teaches on a personal level and creating an environment in which her students feel like an essential member of a safe community of learners. Ms. Fritz considers herself to be a member of this community as well, and she shows it by asking the question, "If my students don't trust me and feel like I actually care about them and their future, how will they be able to see that what I am teaching them or asking them to do is important and necessary?" 
  Ms. Fritz currently teaches twelfth grade English as well as AP Language and Composition, the class in which now senior Avery Glenn formed a bond with her. When asked about how Ms. Fritz is different than other teachers, Avery stated, "Ms. Fritz makes sure the learning environment she offers is safe and open to everyone, and she considers the fact that everyone receives knowledge differently. She is incredibly encouraging and she goes above and beyond to make school enjoyable. Some of the most fun I've had learning has been in her classroom." The two students above are not the only ones who feel this way about Ms. Fritz. She is truly a beloved teacher who goes above and beyond to reach her classes. Whether she is working to make changes to better the school environment through her School Improvement Co-Chair position, coaching high-school athletes as a volunteer assistant coach for cross country and track and field, or asking students about how their lives connect to a piece of literature, Ms. Fritz is deserving of the Teacher of the Year honor in every way imaginable.