The effect of Coronavirus on sports everywhere
  The global pandemic that has affected everyone, young and old, has ventured into the world of sports. The Coronavirus is relentless, and it does not discriminate. No matter the age, race, or sport of someone, this highly contagious virus has been a factor in their life over the past few weeks. For high school athletes, entire seasons have been taken away. After Wake County announced the cancellation of school up until May 15 at a minimum, games, practices, meets, and competitions were cancelled as well. This is much to the dismay of Millbrook students who have trained relentlessly and were looking forward to their spring sports seasons. Seniors have felt the impact especially hard, as this was their last chance to compete in high school athletics before graduating. Amyah Solomon, a senior on the stunt team, expressed how she was feeling when she said, "I was really looking forward to my last season of stunt at Millbrook as we were planning our comeback season. I definitely wasn't ready to say goodbye, but instead of staying sad, I'm grateful I got to have at least one game to end my senior season, and the memories and friends I have made throughout the years I know I will always have with me! My team and coach especially have been super supportive of each other during this hard time, making it that much easier." Amyah shows maturity in this statement, as she was able to find the silver lining of an incredibly difficult situation for many high school athletes. 
  College sports have felt the impact of Corona as well, as all remaining spring and winter NCAA championships were cancelled entirely. This includes March Madness, a basketball tournament which typically draws millions of fans and viewers. Division I, II, and III NCAA swimming championships were cancelled entirely, and full spring sports seasons of many major college athletic conferences were cancelled or postponed indefinitely, too. The upcoming college football season has the potential to be cancelled as well, a possibility that has concerned sports fanatics and players alike. 
  On the international level, many sporting events were also pushed back due to the concern for the large crowds that these competitions would draw. The list of cancellations is long, and among the most notable were the NBA season suspensions, the many sport-wide Olympic qualifying events, and finally, the postponement of the 2020 Olympic games to an entirely new year. Although these changes are unfortunate, most professional and even amateur athletes have voiced their support for the difficult decisions. The resounding opinion is that the decisions made by worldwide sports committees were the right ones, as the Coronavirus is something that has put many people in dangerous situations. In order to maintain public health safety, athletes have suffered, but they have been put in the best possible situation to ensure a positive future in sports. 
About the Writer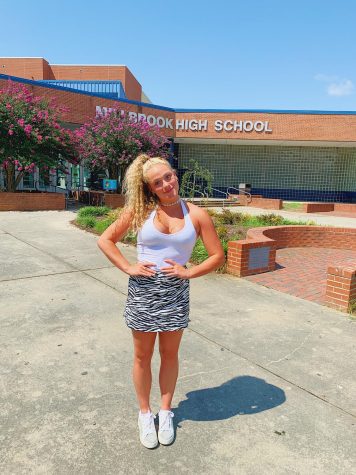 Janie Inscore, Editor-in-Chief
Hey there, Cat Talk fan! My name is Janie Inscore, and I am thrilled to be entering my third year on the newspaper staff. Except this time, I'll be serving...