Sport of the Month: Women's Basketball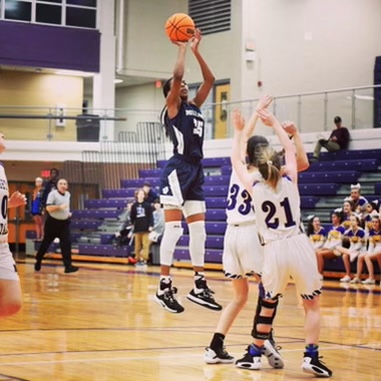 The Millbrook Women's Basketball Team is always excited to start the season. This year the team was unsure what the season would look like but knew that they were eager to play together on the court. The Lady Wildcats' first game is January 13; however, their season really started in October with pre-season workouts. Since then, they have been working hard, anticipating their moment to shine. This season wearing a mask and social distancing are mandatory and something the entire team has had to do.  Head Coach Dan Cortright said, "The girls, in my opinion, understand that it is a small sacrifice to follow protocols in place in order to complete the year."  This year may look different, but the women's basketball team is willing to do whatever it takes to play this season.
   This year's team consists of eight seniors, one junior, two sophomores, and one freshman. Collectively they have been able to create great chemistry on and off the court. This starts with great leaders, one being Reiven Douglas, a senior guard.  She said, "We have all come together this year and prepared as best we could."  Even through the challenges the year has thrown them, this team has shown how resilient they are. As their first game draws near, one thing Reiven is most excited about is "playing her senior season and getting the opportunity to win a state championship ."  This shows that this season that they have very high expectations for themselves.
   Millbrook women's basketball has always had high standards, having won multiple state championships in years past. This year is no different, even if there are no state playoffs. The athletes on this team still have a winning mindset and will take it game by game to come out on top. COVID cannot hold back these Lady Wildcats from anything. They are ready to step up and face whatever comes their way by all coming together in tough times like these.