Life after high school for the Class of 2021
  Bring out the balloons and the graduation announcements because it is time to celebrate! After a long, hard year full of unknowns, the Class of 2021 is nearing the end of their high school careers. Even in the midst of a global pandemic, the senior class has prospered. Whether you are a senior moving on to a two or four year college, the military, entering the workforce, or taking a gap year to pursue future goals, the Class of 2021 has a lot to be proud of. To all who have supported this years' graduating class, read on to find out what the Wildcat seniors are doing next year. 
   Goal-oriented is a word best suited to describe these soon-to-be graduates. Senior Ty'ceana Spears, for one, has big dreams of owning her own hair and nail business one day, and she plans to do that by starting off at Wake Tech where she will study cosmetology. For her, "college is important because I can finally get my degree in something I have always wanted to do." Another senior who will stay in-state next year is Natalie Kincaid, who chose UNC Asheville: "I really love the creative environment in the city. I am so excited to start college in such an artistic and eccentric place. This fall I'll be majoring in Drama, and eventually in the future I hope to open my own theatre company for disadvantaged youth!" Natalie will join several of her current Millbrook classmates in furthering her education through the ever popular North Carolina college system, where many seniors have chosen to attend UNC, NCSU, UNCC, UNCG, ECU, UNCW, and Appalachian State, respectively. While there are many seniors who have elected to stay in-state for college, some have selected schools out of state, like Olivia Holman: "At Arizona State I want to major in Medicinal Biochemistry, so I can go to medical school and become a trauma surgeon." 
  Millbrook boasts not only great students, but also stellar athletes, several of which are headed off to college to continue their athletic careers. After helping both the lacrosse and football teams over the past four years, Parker Shoun is now headed to Barton College, where he is "most excited to meet my new teammates and play lacrosse." He plans to major in sports management with the hopes of becoming either an athletic director or coach at the high school or college level. Parker wants all underclassmen to know that "no matter who you are, you can do whatever you want in life if you work hard for it!" Haile Desmaris is another student athlete who will make her mark in the world of college sports. Like Parker, she will be playing her sport, soccer, at the Division Two level. Remaining in-state, Haile chose Lees-Mcrae "mainly because of the overall atmosphere of the campus as well as the atmosphere of the team and bonds between coaches and players." Her goal for the future is to eventually become a doctor of physical therapy. Like Haile, senior shot putter Sydney Freeman wants to do something in the medical field one day. In order to get there, she has chosen to pursue her academic and athletic endeavors at NC State, a Division One school! For Sydney, "College is important because it's not only about furthering your education, but it's about the life experiences you have and the memories you make with friends." 
  College may be the typical option once high school is over, but some graduating seniors have other plans. Will Edmondson, for starters, will be deferring his college admissions to go on a nine month mission trip to Guatemala, Cambodia, and Eswatini through an organization called The World Race. Although he originally could not imagine putting college on hold for a year, he decided to take a gap year: "I really want to see the world and experience what life is like in places that are thousands of miles away while helping people in the process."  Seniors, whether you are traveling near or far in your future school and work endeavors, you will assuredly go far in life. Good luck and congratulations to all!
About the Writer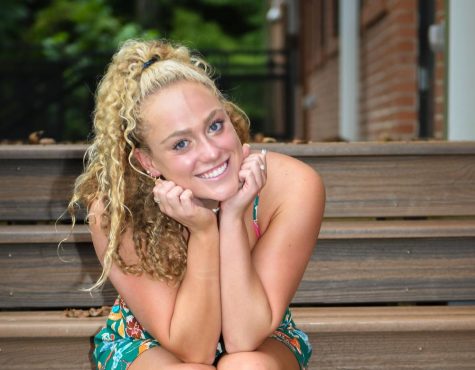 Janie Inscore, Editor-in-Chief
Hey there, Cat Talk fan! My name is Janie Inscore, and I am thrilled to be entering my third year on the newspaper staff. Except this time, I'll be serving...