Grey's Anatomy: is it the end of an era?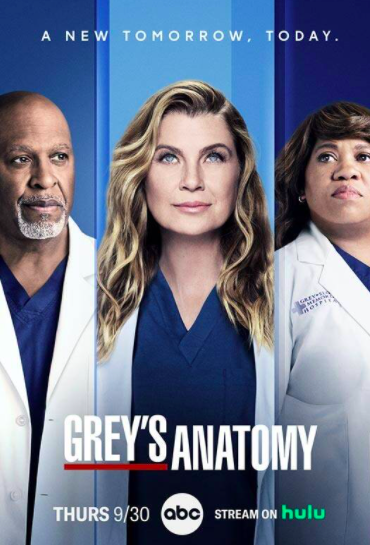 Early September, several old cast members revealed that they would be returning for Grey's Anatomy Season 18. Abigail Spencer, Kate Walsh and Kate Burton will return for several new episodes. 
  In Season 17, Meredith Grey contracted COVID-19 and dreamed about the people she had lost throughout the series. For example, Meredith dreamed about Derek Shepherd, George O' Malley, Lexie Grey, Mark Sloan, and Andrew DeLuca on a beautiful island. As the season continued, many thought this was how the show would end. However, the show was renewed to have another season.
 After making a guest appearance in a total of eight episodes, Dr. Megan Hunt, played by Abigail Spencer, will return to the show. It has not yet been revealed why Spencer will be returning to the show, but she is expected to be in the premiere episode of the new season.
  After leaving the Grey-Sloan Memorial Hospital, Dr. Addison Montgomery, played by Kate Walsh, left the hospital to take a job at a private practice in Los Angeles. This gave Kate Walsh her own spin-off series, Private Practice, and allowed her to visit the set of Grey's Anatomy for a patient that would need her character's help. Now, Walsh will be returning to the new season. She will definitely be in a "multi-episode" arc to make sure all the fans will be able to get as much of Dr. Montgomery as they want. 
  Kate Burton will be part of the storyline of Season 18, and will play the late role of Meredith Grey's mother, Ellis Grey. Since the beach sequence episodes ended with Meredith getting better and waking up, people are unsure about how the creators will reintroduce Ellis Grey on the show. 
  Jesse Williams, who plays the character Dr. Jackson Avery, recently left the show during this past season. There were possibilities of Jesse Williams and Sarah Drew, as Dr. April Kepner, to get their own spin-off show. However, there has been no word of that as the 18th season of Grey's Anatomy approaches. In an interview, Williams said that he would be open to returning for a guest appearance in Season 18. He continued to express how he loved the cast, his character, and thought that it would be really cool to check-in.
  With the news of these characters returning, combined with the reappearances in Season 17, many are starting to believe that the show might be coming to an end. However, senior Olivia Ballard comments "I love it when they bring back old characters, it makes me feel like how it was at the beginning of the series." If this is the last season of Grey's Anatomy, then at least the creators have given the fans the return of the most famous characters of the entire show. With all this information about the new season, make sure to watch the Season 18 premiere on Thursday, September 30th.