Cats on the Prowl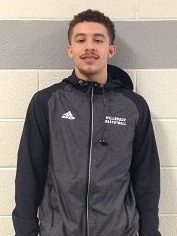 Hang on for a minute...we're trying to find some more stories you might like.
Sport: Basketball
Position: Point Guard
Birthday: December 4
Pre-Game Ritual: Prayer
Dream School: University of Florida
Dream Car: Rolls-Royce Wraith
Likes: Staying to myself, working out
Dislikes: Losing, homework
Hobbies: Basketball, video games
Favorite Movie: Juice
Favorite Song: "Used to This" -Future
Favorite Memory: Being the first eighth grader named to the All-Tournament Team at the HSOT Holiday Invitational
Most Embarrassing Moment: Wrecking my four-wheeler into the side of my house
Proudest Accomplishment: Receiving a full-ride, D1 scholarship
Favorite Quote: "We don't pray for deliverance from the storm, we pray for strength in and through any storm." -Ralph Emerson
---

Seraphin Kibonge, Social Media Editor
Hey readers! I'm Seraphin Kibonge, also known as @The_GreatSK on twitter,  and I am back to show you the beauty of my writing. Stay on this profile and...