NASCAR's rule changes in 2017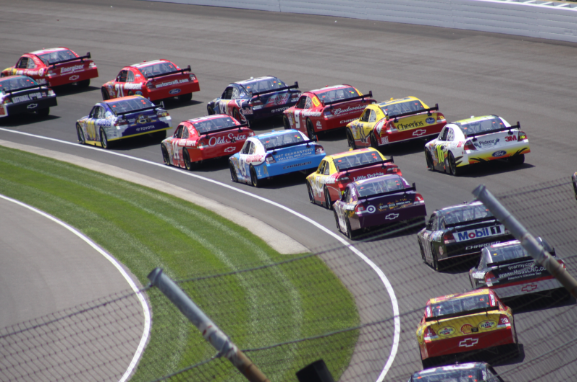 Hang on for a minute...we're trying to find some more stories you might like.
 NASCAR has been a constant, and for the most part, unchanging sport in the past. However, that has been shifted recently through pretty drastic changes which racers have, for the most part, positively supported, that will alter racing forever. The CEO and Chairman of NASCAR, Brian France mentioned that the changes strengthen the sport for NASCAR's fans, though many fans disagree. Some think that the rule changes will bring about too much unneeded alterations, while others think the changes will bring about a more intriguing race to observe.
 Jimmie Johnson, Joey Logano, Kasey Kahne, and Ryan Blaney are examples of racers strongly in favor of the new rule implementations for NASCAR this year. Mark Martin mentioned that it would be a lot better if things could just go back to how they were in the 80s and 90s, but said that going back was not an option. For that reason, he could not find a reason against making it more exciting. Ryan Reed is proud to see that NASCAR is able to adapt and change.
 The changes brought about include splitting races into three stages, each with championship implications in them. The top 10 racers in each race will receive additional championship points. The winner of the first two stages of each race will get 1 playoff point. The race winner will receive 5 playoff points. Each of these playoff points will be added to a driver's reset total following the 26th race if that racer makes the playoff.
 The rule changes assure that competitions will be recorded throughout the duration of the regular 26 race season because both points for stage winners and race winners will be transferred into the postseason. Official regular-season champs will be awarded 15 playoff points to the driver's playoff reset of 2,000. All playoff points will be carried through to the end of the third round of postseason. Championship points following the first two stages of each race will be awarded on a descending scale. Stage winners would get 10 points, the second place winner would get 9 points, et cetera. The race winner following the final stage will receive 40 points, while second earns 35, third earns 30, et cetera.
 Junior Connor Root said, "NASCAR never used to be this complicated; in fact, I used to enjoy it much more when I could explain all of the rules myself." The racers and industries have supported the new rule changes for obvious reasons. Though, fans are still debating on whether these changes are good ones or just downright not necessary. Racers themselves have responded very positively to the changes mainly because of the new, exciting factors to the races.