Sprinting to the trophy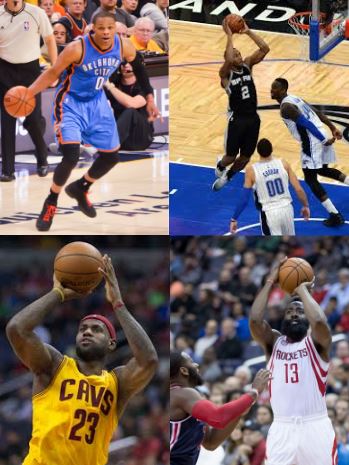 Hang on for a minute...we're trying to find some more stories you might like.
  This year's NBA season has been an incredible one. Some say there has never been a campaign as impressive as more players than any other season have completed 50+ point games. Such astounding feats have led to one of the tightest MVP races of all time. The four main candidates for the Podoloff trophy have each made a very strong case for themselves.
  To begin, Russell Westbrook has been historically great this season. The Oklahoma City Thunder guard averaged a triple double for the entire year, an accomplishment that has not and only been completed since the 1961-62 season. He single handedly led his team to a playoff appearance after losing former MVP teammate Kevin Durant to free agency. The only argument against his side is that no player has won MVP without a top three seeding in their respective conference; the Thunder finished in sixth place in the West with a mediocre 47-35 record.
  Former teammate of Westbrook, James Harden, has also made an extremely strong argument for the title. For the Houston Rockets, Harden nearly averaged a triple double. He led the league in assists at 11.2 per game as well as coming second in scoring average behind Westbrook. Junior Dallis Woolard said, "Both Westbrook and Harden have had tremendous seasons, but between the two, I would give the award to James Harden based on winning more games." Even more incredibly, Harden made the move from playing shooting guard his entire career to running the show at point guard this season, where he was the first player in NBA history to score 2,000 points and assist on 2,000 points. He has excelled at his new position, hence the league leading assist mark. Quarterbacking the second highest scoring offense to a 55-27 record only reiterates his side of the MVP showdown.
  Another Western Conference superstar honed the spotlight in Texas. Kawhi Leonard has steadily risen every season since entering the NBA. He may very well be the best non-lottery player (chosen 1-14) in league history after the San Antonio Spurs acquired the 2011 fifteenth pick in a draft night trade. After cementing himself as the best wing defender in the NBA, his offense has finally matched his defense. Averaging 25.5 points per game, he took San Antonio to a 61-21 record, good for second in the league. At times he appeared as the Spurs' only offensive weapon. Leonard had a string of plays earlier this year which he blocked James Harden's shot on one end to run and make a game winner. Coach Gregg Popovich compared the 25-year-old to none other than Michael Jordan. Watch out for him to win his first career MVP award.  
  The final candidate for MVP has been a staple in the conversation year after year. LeBron James has been the heart and soul of the Cleveland Cavaliers all season long. At 32 years old, LeBron has posted career highs in assists and rebounds at 8.6 and 8.7, respectively, while scoring at his highest mark since returning to Ohio. LeBron has instilled the fire into the Cavaliers every time they have shown the slightest weaknesses this year. He has won the award four of the last eight seasons; no one would be surprised if he brought home another for his trophy case.