Reminiscing on the beginnings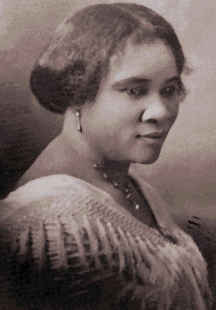 Hang on for a minute...we're trying to find some more stories you might like.
Today marks the anniversary of Madam C.J. Walker's death, she was the first female American to become a self-made millionaire.  Walker left her footprint on the industry of hair, black hair specifically. Born on a Louisiana cotton plantation, Walker was born December 23, 1867. Her birth name was Sarah Breedlove. Her parents were recently freed slaves.  Her mother, Minerva, died when Sarah was only seven years old. The following year, her father, Owen Breedlove passed away as well.
 During the 1890s, Breedlove eventually developed a scalp disorder that resulted in her losing a majority of her hair. She then started to experiment with hair products she purchased and also a few home remedies in hopes of improving her condition. Annie Turnbo Malone hired Breedlove in 1905. Malone was a black hair care product entrepreneur and was very successful. Sarah and her husband moved to Denver, Colorado, in hopes of finding success with this new job. Her husband Charles helped her by creating advertisements for  hair treatment for African Americans. Her husband suggested that she use a more recognizable name, and "Madam C.J. Walker" was born. Walker and her husband traveled around the South and Southeast in 1907 to promote her products. She also gave lecture demonstrations of what she called the, "Walker Method." This included pomade, brushing, and use of the hot comb.
 The more profits she made, the more she was ready to build up her company. So, in 1908, Madam C.J. Walker opened a factory and beauty school in Pittsburgh. By 1910, she moved her business operations to Indianapolis. This is where she also trained sales beauticians. These beauticians became known as the Walker Agent, and were popular throughout the black community. Her company, the Madame CJ. Walker Manufacturing Company, had become successful, and her profit was the equivalent of modern day several million dollars. She continued to spread her philosophies and the advancement of African Americans by providing educational opportunities.
 Following her divorce in 1913, Walker traveled through Latin America and the Caribbean to promote her business and recruit more beauticians. Her daughter, A'Lelia Walker also helped her mother with her business by facilitating a purchase of property in Harlem for the future of Madam C.J Walker's business. Walker returned to the States in 1916, and she moved to Harlem where she slowly dove into the social and political culture. This is when she started philanthropies that held educational scholarships and donations.
 She continued to do this for the rest of her life until her death on May 25, 1919, at the age of 51. Her legacy still worked in her favor. She is still known to be the first American women to become a self-made millionaire.