Lights, Camera, Action!
Hang on for a minute...we're trying to find some more stories you might like.
 Halloween is just around the corner, and there is no better way to get into the spooky spirit than with some Halloween movies. From horror to family favorites, there is a movie out there for everyone to get into the spirit. With no school on October 31, you will have plenty of time to marathon the day away. There is no better way to binge than Netflix, so these are Halloween favorites available to anyone with a subscription!
 First and foremost, everyone needs a good scream around Halloween. If you are looking for something with a good mix of creep factor and in-your-face scares, HUSH is a great pick. The movie follows Maddie, a deaf author living in an isolated forest, who is tormented by a psychotic killer with no one to call for help. He plays off of her lack of hearing by coming into her house, taking pictures of her, and sending them to her. With a 94% on Rotten Tomatoes, this movie will have you looking over your shoulder for weeks to come. The elements of psychological torture are what make this film especially scary, as well as its unique characterization of the villain and Maddie because of her disability challenging both of them to beat the other.
 A more classic thriller would definitely be an excellent follow-up, so next head to Elm Street. Nightmare on Elm Street is a horror classic and a fan favorite in its heyday earning $1.8 million in its opening week. The 1984 film stars four teenagers who are hunted in their dreams by Freddy Krueger. Only if they die in their dreams, they die in reality too. Though the effects can seem a little outdated, it is a fun watch with lots of famous references that are still used today. It is also enjoyable seeing a young Johnny Depp in one of his debut roles. Horror movies that lack in movie magic still have a place in Halloween culture as junior Sophie Walsh points out, "Movies that put me in the Halloween spirit are the ones that are old and are supposed to be scary but are really just cheesy, like Halloween."
 To round out your night of screams, it is time for a family-friendly watch. The Corpse Bride is an iconic claymation movie from esteemed director Tim Burton, who has directed other famous films such as Beetlejuice and The Nightmare Before Christmas. A tragic romance with an element of dark comedy, The Corpse Bride is about a young groom named Victory who is nervous about his upcoming wedding. To calm his nerves, he takes a stroll in the creepy forest and ends up pulled into an undead adventure by Emily, a bride murdered on her wedding day. This film is another Johnny Depp classic that has elements for both older and younger audiences. After this locked and loaded movie marathon, you will be ready to trick-or-treat all night long!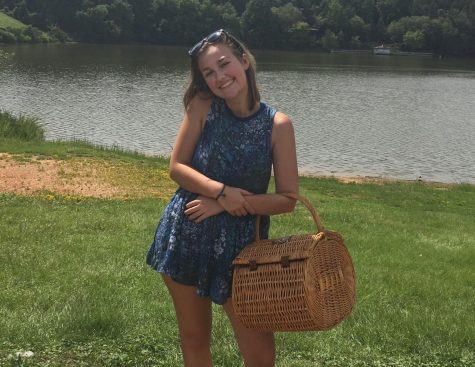 Laura Conoly, Editor-In-Chief
Hey guys! First of all, thank you so much for visiting the Cat Talk website! My name is Laura Conoly, I am an IB Senior, and I am your Editor-in-Chief...