Lights, Camera, Action!
Valentine's Day favorites
Hang on for a minute...we're trying to find some more stories you might like.
 Though not everyone may like to admit it, everyone loves a good chick-flick or rom-com every once in a while, and there is no better day to indulge than Valentine's Day! Whether you and your besties are having a movie night or you and your significant other are looking for a way to relax, romance movies are a staple of February 14. How to lose a guy in 10 days and 10 things I hate about you both include elements of comedy, romance, and even a little drama to give you the complete package.
 How to lose a guy in 10 days should be on every romantic-comedy-lover's list because this movie brings on the tears and the laughs. Starring Kate Hudson and Matthew McConaughey, a match made in heaven, how could you not love this one? The beloved film follows "how to" columnist Andie Anderson and marketing genius Ben Berry as they both end up in bets about the other person. Andie's bet is to find out what makes men want to end a relationship by getting a guy to dump her in ten days, and Ben's is to be to make a girl fall in love with him so his boss will let him move into jewelry marketing. This movie is essential if you and your boyfriend or girlfriend are looking for a movie you will both love because it has an even mix of traditional "girl humor" and traditional "guy humor."
 Another ten out of ten romantic comedy, 10 Things I Hate About You will bring back all the 90's nostalgia you are in need of. Though this movie is a modern reimagining of Shakespeare's Taming of the Shrew, it is widely recognized as one of the most relatable teen movies. Sophomore Kayla Styll said, "10 Things I Hate About You is a perfect movie for Valentine's Day! It's a great mix of comedy and romance, plus it's a classic." Icons Heath Ledger and Julia Stiles take the lead, with Stiles playing Kat, a high school senior who refuses to date, and Ledger playing Patrick, the guy getting paid to woo her. With iconic scenes, such as the original and best ever promposal, there is not even one thing to hate about this flick.
 No matter if you are looking for a quiet night in or a group rom-com night, these two movies are sure to make your Valentine's Day one for the books.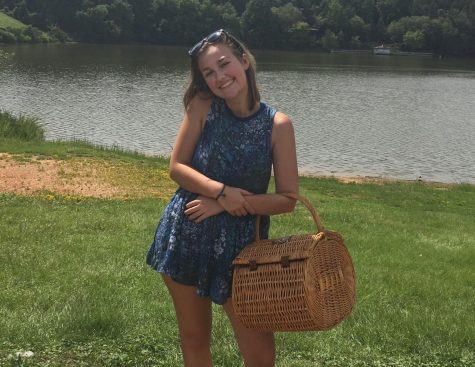 Laura Conoly, Editor-In-Chief
Hey guys! First of all, thank you so much for visiting the Cat Talk website! My name is Laura Conoly, I am an IB Senior, and I am your Editor-in-Chief...