Who will take home the gold(en statue)?
Hang on for a minute...we're trying to find some more stories you might like.
 Out of all of the award shows, the Academy Awards are, by far, the most prestigious. Each year, the Oscars bring together the absolute best of the best, and this year is no exception. From the delightfully sinister fantasy The Shape of Water, to the brilliantly satirical thriller Get Out, this upcoming Oscars really represents this year's cinema in the best possible way. With so many qualified films, it seems like trying to predict a winner is nearly impossible. However, there are hints that may indicate who will take home the awards.
 The most infamous award is Best Picture. This year, the films nominated are The Shape of Water, Three Billboards Outside Ebbing, Missouri, Dunkirk, Lady Bird, Get Out, Call Me By Your Name, The Post, Darkest Hour, and Phantom Thread. Most predict that The Shape of Water will win Best Picture, as they received the Directors Guild of America Award (DGA) and the Producers Guild of America Award (PGA). The Shape of Water follows a mute woman living in 1962 Baltimore who discovers a classified South American creature, leading to her developing a strong bond with the scaled creature, and eventually protecting him from the hostile government and a marine biologist. Three Billboards recently picked up the Screen Actors Guild Award (SGA) on January 21, making it another strong contender for the award. Three Billboards follows Mildred Hayes, the mother of a recently murdered young girl, who puts up three billboards with a controversial message directed towards the local chief of police after months go by with no arrested culprits.
 The nominations for Best Actor bring forth veteran thespians Roman J. Israel Esq,'s Denzel Washington, Darkest Hour's Gary Oldman, and Phantom Thread's Daniel Day-Lewis. But it also elevates newcomers Call Me By Your Name's Timothée Chalamet and Get Out's Daniel Kaluuya, who was most recently in the widely acclaimed Black Panther. Most predict that Gary Oldman will take home the Oscar, as he received the SGA and the British Academy Film Award (BAFTA), although many speculate that Timothée Chalamet will snag the statue, as audiences and critics have agreed that his performance in Call Me By Your Name has revolutionized LGBTQ+ cinema.
 This year's nominations for Best Actress include Lady Bird's Saoirse Ronan, Three Billboards' Frances McDormand, The Shape of Water's Sally Hawkins, The Post's Meryl Streep, and I, Tonya's Margot Robbie. Surprisingly, acting legend Meryl Streep is projected to be the least likely winner of the award, while the predicted champion is suspected to be Frances McDormand, as she has already picked up an SGA and a BAFTA. However, Saoirse Ronan's lovable performance as Christine McPherson is also a strong contender.
 Those nominated for this year's Best Director category include Get Out's Jordan Peele, The Shape of Water's Guillermo del Toro, Dunkirk's Christopher Nolan, Lady Bird's Greta Gerwig, and Phantom Thread's Paul Thomas Anderson. Jordan Peele and Greta Gerwig seem to have received the largest amount of acclaim from mainstream audiences, as Senior Andrew Kaplan comments, "Get Out was interesting with how in depth the foreshadowing was, especially for a film by Jordan Peele, a first time director." However, Guillermo del Toro is predicted to win, as he has already won a BAFTA and a DGA.
 Even with these estimated predictions, the 90th Academy Awards are sure to be a revolutionizing and unpredictable night. Senior Rebecca Irene expressed, "As someone interested in the arts, seeing people involved in the movies that I love getting recognition makes me really happy." Make sure to tune in on March 4, when Jimmy Kimmel hosts the most important night of cinema!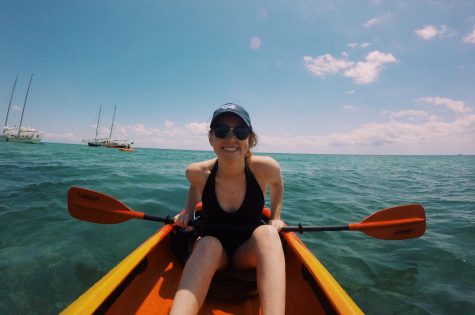 Olivia Burnette, News Editor
Hi, Cat Talk readers! My name is Olivia Burnette, and I'm a senior here at Millbrook. I love reading, hiking, yoga, playing with my dog KJ, and getting...