Millbrook presents "Mary Poppins"
Hang on for a minute...we're trying to find some more stories you might like.
  It is time once more for Millbrook's annual spring musical, and this year it is Mary Poppins taking the stage. With the biggest musical cast to date for Millbrook, along with demanding technical work and iconic songs, this performance is set to showcase the amazing talent our students possess. Seniors Kelly Garrett, playing the famous Mary Poppins herself, Carson Weddle, playing Mr. Banks, and Chloe Daniels, playing evil nanny Miss Andrew, have worked hard to put their best foot forward and lead the way for some of the newer castmates. Among these newcomers is Andrew Bonsted, a freshman in one of the lead roles, Michael Banks,  who said, "I grew up with the story of Mary Poppins, and to be able to be in the role that I am is very special to me." To round out the main roles are juniors Waverly Noble as Mrs. Banks, Vincent Davies as Bert, and Riley Yates as Jane Banks. "This show has a lot of moving pieces with such a large cast and crazy set changes, but I have grown to love the crazy environment," said Waverly Noble, who has appeared in three of Millbrook's former productions including last year's musical The Addams Family.
  Almost everyone has heard the story of Mary Poppins, the nanny who brings magic and wonder into the lives of the Banks family with the help of the charming Bert. Many have also seen Disney's iconic movie adaptation of this story, which features Julie Andrews and Dick Van Dyke. However, the musical does contain some differences to the classic film, with some songs having been added or taken away. "Both the musical and the movie are great adaptations of the story," said Kelly Garrett, "For people that are afraid of the musical because they love the movie so much, don't be. It's just as wonderful and just as fun." Junior Vincent Davies, who stars alongside Garrett in the role of Bert, chimed in as well; "It's the same basic outline as the movie, but with some differences. The musical does a great job of capturing the same vibe as the movie."
  An incredible amount of work has gone into making this production possible, including the hardwork and dedication of various members of the crew and ensemble, along with Mr. Kotzian, Ms. Burton, Mr. Jenner, Mr. Adams, and Ms. Hoy. "I absolutely adore being part of the production, mostly because of how welcoming the cast and crew is. They're some of the kindest people, and Ms. Burton and Mr. K are lots of fun to work with," said sophomore Lanie Winkler, who is a member of the ensemble appearing as Annie, a chimney sweep, and a park stroller. Junior Riley Yates agreed with this sentiment; "I feel really connected with everybody; we're all friends and we're all really close."  It is never too late to join theater, and it is a wonderful way to meet new people in a welcoming environment. For those that are not interested in appearing onstage, the crew is just as important to the show. "There's always people that have your back. It's a great community environment," said Vinnie. If you are interested, try auditioning next year for the fall play or spring musical, or signing up for theater or tech.
   The show will appear live in the Millbrook auditorium on April 19-21 at 7 p.m.. Tickets for students are only $5, so make sure to head out and support your fellow classmates! 
"
"Mary Poppins is a show about hope and being kind to people, and I think that's something our world needs a lot of right now. Everyone needs to come and laugh and cry with Mary Poppins and the Banks family."
— - Kelly Garrett, Mary Poppins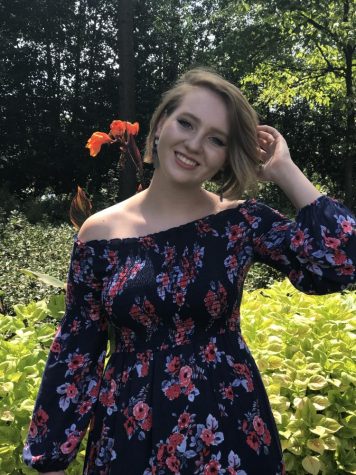 Peyton Lenderman, Features Editor
Hey Cat Talk reader! Thanks for checking out my profile. I'm Peyton Lenderman, and I'm a senior here at Millbrook High School. I'm originally from Michigan,...