Lights, Camera, Action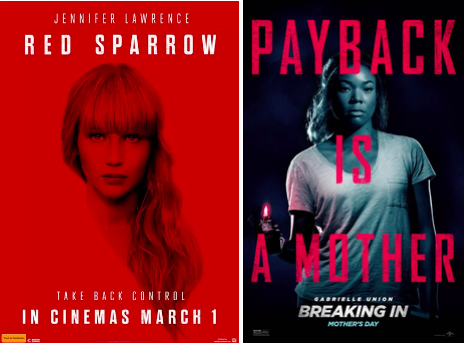 Hang on for a minute...we're trying to find some more stories you might like.
 The best part of any cinematic experience is approaching the climax of the story and slowly moving to the edge of your seat. However, with a good thriller, the whole film gives you that feeling. Thrillers  usually delve into risky situations, such as kidnappings and other crimes, and involve elements of mystery and shock. One thriller that has been making splashes is Red Sparrow, which is based on the novel with the same name by Jason Matthews. This movie was extremely anticipated by movie-goers with a 69 million dollar budget and big name stars, particularly Jennifer Lawrence, who starred in the fan favorite The Hunger Games trilogy and won the Best Actress Academy Award in 2012 for Silver Linings Playbook. The move follows Dominika Egorova, an extremely successful ballerina in Russia, when she endures an injury that ends her career. Desperate to save her and her mother from a grim future, she turns to a secret intelligence school known as Sparrow School where she undergoes horrifying and violent training, but becomes one of their finest recruits. She goes on to encounter a CIA agent who tries to gain her loyalties, leaving the audience wondering throughout the whole movie whose side she is really on.
 There is no doubt, this movie is gory. Violence follows Dominika wherever she goes, and the audience is not sheltered from every tragedy she ensues. This movie also falls into a pitfall that many political thrillers do, which is under developing many of the characters, or worse yet, giving into stereotypes about a group within the film. However, Dominika is incredibly complex and well developed, with every small flinch or gesture giving some new depth to the tough ballerina-turned-spy. Another issue many audiences were worried about was the challenges of American actors portraying Russian accents believably. Though not perfect, the minute missteps in dialect did not distract from the film, especially when the director made special care to keep the focus on what was implied through the dialogue and the sobering realities of Dominika's life. Despite many opportunities for major pitfalls, Red Sparrow was able to keep the audience invested and in suspense every second, while giving a fresh twist on the more recent thrillers. Senior Emily Ficker puts it best when she said, "I initially had low expectations for Red Sparrow seeing that Jennifer Lawrence's fake Russian accent in the preview was laughable, but it ended up being super intense, and the ending will shock you!" The DVD will be made available in May.