Kavanaugh accused of sexual misconduct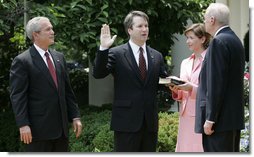 Hang on for a minute...we're trying to find some more stories you might like.
President Trump's nominee for Supreme Court Justice, Brett Kavanaugh, suddenly came under the spotlight of the country when Dr. Deborah Ford came forward, accusing Kavanaugh of forcing her to touch him without her consent. The event took place at Georgetown Preparatory School, but the year is not solidified by Ford.
   Now, President Trump has ordered an FBI investigation into Kavanaugh's file as a way to prove that he is innocent, while many democrats think that the FBI investigation will prove that Kavanaugh is guilty. In order for this investigation to take place, the senate voted on a one week delay on Kavanaugh's confirmation vote for the Supreme Court. 
  Ford was hesitant to come forward at first because of some serious gaps in her recollection of that night; however, she is now more confident in her story and has been more vocal about the incident. Kavanaugh and Ford testified on Thursday. There were some discrepancies about whether Ford was going to appear and testify as well, but on Wednesday, she said she would be there.
  Kavanaugh consistently denies the claim, dismissing it as a smear from the democratic party. His family has stood beside him and continues to defend his character. When Dr. Ford testified, she stood her ground in insisting that Kavanaugh sexually assaulted her.
  Ford was the only woman to testify, although there are now two other women who have accused Kavanaugh of sexual assault throughout his high school and college years.
  Some politicians say that even though this took place 35 years ago, it is still relevant to the kind of person Kavanaugh is and that the American people should take that into consideration, as he was nominated to the Supreme Court. Other politicians argue that Kavanaugh is being denied the constitutional principle of "innocent until proven guilty," and that the burden of proof instead lies on him, to prove his innocence.