All things pumpkin spice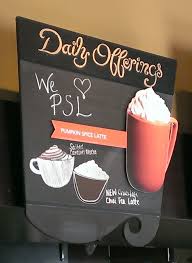 Hang on for a minute...we're trying to find some more stories you might like.
 Pumpkins are synonymous with fall, and this goes back to Native American celebrations during autumn featuring the pumpkin harvest, which they later introduced to early American settlers. Nothing says fall like the arrival of limited edition pumpkin spice products, and there are many new items on the shelves this year.
 For coffee lovers, there are more fall-themed drinks than your classic annual Starbucks range. Dunkin Donuts has released a bottled Pumpkin Spice Iced Coffee that can easily be taken on-the-go. For those who prefer hot coffee, they also sell pumpkin-flavored K-Cups. Starbucks' Pumpkin Spice K-Cup pods can also be found in several supermarkets. Junior Jamie Horwitz said, "I bought the Starbucks K-Cups last week, and I could not be happier. I literally have a cup every day before school." Add Starbucks' Pumpkin Spice Cookie Straws to any cup of coffee to add extra pumpkin flavor. While fall coffee is always a hit, some opt for tea instead. The new Tazo Chai Pumpkin Spice Latte Tea Concentrate is a delicious option this season. The blend includes black tea, ginger, pumpkin, and cinnamon.
 Trader Joe's currently carries a tempting variety of autumnal food items, including pumpkin spice cookies,  pumpkin waffles and pumpkin rolls, inspired by cinnamon rolls. Be sure to pick up some of their pumpkin bagels and pumpkin cream cheese for the ultimate fall-themed breakfast. If bagels are not your thing, try Cheerios' new Pumpkin Spice flavor. Short on time for breakfast? Grab a Caramel Almond Pumpkin Spice Kind Bar on your way out the door.
 If you are looking for a new dessert to try, look no further than the Pumpkin Spice Milano Cookies, a tasty twist on your favorite store-bought treat. A healthier alternative is the Halo Top Pumpkin Pie ice cream. Halo Top ice cream uses stevia and erythritol instead of artificial sweeteners, so it does not affect blood glucose or cause bloating. Also, add Harry & David Pumpkin Butter to any snack or treat for a sweeter taste.
 Pumpkin products can be found in stores everywhere, and there is something to satisfy any customers' fall cravings this season.