Bird Box: what's the rave?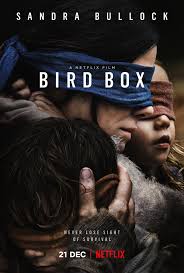 The popular Netflix film Bird Box has broken records in just one week, already surpassing 45 million views.The hashtag #Birdbox is now trending with memes and challenge videos created by multiple viewers.
 This film starts off as an outbreak of mass suicide from an unknown cause, which is later on suggested as people seeing their worst nightmares or lossed loved ones. The signs of the spirits affecting a person is shedding a stream of tears while they put themself in harm's way by committing suicide. In order for people to avoid seeing these illusions, survivors wear blindfolds to block their sight so they do not meet their end. The protagonist, Malorie, a pregnant woman who watched her sister die before her eyes, finds a safe house which also holds a few other survivors.
 When their shelter runs low on supplies, the survivors make the risky decision to go on the hunt for food in supermarket which was owned by one of the survivors being unaware of the danger to come. In order to not be sucked into the illusion, they go by car using a GPS as their guide meanwhile covering all windows to protect themselves from the darkness. While gathering supplies, Malorie discovers birds in a cage, which she realizes chirp very loudly when the spirits that cause these illusions are nearby. Throughout the movie she uses these birds as a guide when traveling as a warning signal to ensure the safety of the environment. Thus the origin of the film's title, Bird Box.
 Towards the end of the movie there is  a revelation of what the spirits really are, demons from all around the world. The odd part of it all is that there are those who die on impact of seeing these demons and those who do not die yet still see them. Sane people are those of mental well-being who die on impact of seeing these spirits illusions, as opposed to believers such as ones who escaped insane asylums, mental hospitals, etc. who want to show the world the beauty of seeing these creatures and survive, making them pawns.
 In this social media storm, memes were created out of these events such as the believers trying to forcefully open someones eyes to see the creatures. They use funny captions like "When she acts like she doesn't see my messages" or "What it's like trying to let a dude see what he does wrong," among many more. Other memes include Malorie rowing down the river blindfolded in the beginning scene of the movie which varies from "Could you see us being together" and many more hysterical ones. People on social media have even made fun of the movie by being blindfolded doing everyday mundane tasks. From walking outside to sitting in their bathtubs full of water as if they were on the river themselves. However, many news companies have been urging the public not to do the challenge since it is dangerous.
 Bird Box is one of the hottest trending topics of 2018 and continues to be in 2019. "Although I haven't yet seen all of the movie Bird Box, I find it pretty hilarious seeing all these trending videos have a comedic twist on bits and parts of the movie," said junior Luis Maradiaga.