Bullet journaling: Organize your life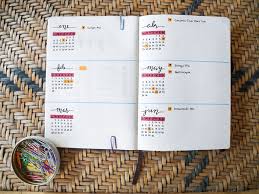 Hang on for a minute...we're trying to find some more stories you might like.
 As we approach the end of the first month of 2019, many of us may be beginning to fall out of touch with our New Year's resolutions. Either we are accepting the failure of our goals, or we are desperately seeking ways to maintain them before ultimately giving up. A fun and effective method of continuing the pursuit of your resolutions is bullet journaling, which entails keeping a journal dedicated to tracking habits, staying on top of goals, and listing personal ideas and aspirations. Many have expressed the significant progress bullet journaling has helped them to make, and it is a reputable way of holding yourself accountable for all of the goals you set for yourself.
 Bullet journaling was created by Ryder Carroll when he realized he could help his frantic, unorganized friends by sharing his journaling techniques with them. When he explained his organizational methods to them, they urged him to continue to spread the word of his unique methods to others. This turned into a personal project that led him to launch bulletjournal.com in 2013, featuring tutorials and walkthroughs to help others create their own bullet journals. After the website turned out to be a hit, Carroll decided to sell notebooks with outlines of a standard bullet journaling format to raise money for the website. Maintaining the website and continuing to market the journals became a long-term project that still captivates those in need of a more organized lifestyle. Now, other companies have followed Carroll's example by compiling, creating, and selling bullet journals. The bullet journal has become a worldwide sensation, and customers everywhere have used it to stay on top of their goals.
 If a bullet journal sounds like something you need, getting started is simple. Bullet journals are available for purchase on Carroll's website, bulletjournal.com, as well as from a variety of other vendors; however, you can turn any blank notebook into a bullet journal. To begin, you may want to plan out the layout of your pages, as well as what you are interested in including in your journal. A table of contents can be helpful during this planning process. Once you start filling your pages with content, be sure to personalize them by doodling and adding artistic details throughout your notebook. Also, do what works for you; you do not necessarily have to stick to tutorials and follow what others put out on YouTube, blogs, etc. Customize your bullet journal, and have fun with it.
 With that said, you may still be on the lookout for some sources of inspiration for the layout of your bullet journal. If you are interested in having others' examples to reference, there are several great places to look. Pinterest is sure to have fresh ideas for page designs and decorative embellishments. In addition, many YouTube channels feature "Plan with Me" videos, which are sit-down bullet journaling tutorials that might offer you more tips, tricks, and ideas. Ryder Carroll's website also includes a blog full of helpful walkthroughs.
 If you are in need of a more organized lifestyle, bullet journaling is bound to benefit you as you implement the habit into your life. Junior Ashlyn Smith started bullet journaling about a year ago: "I love using a bullet journal because I feel like it's hard to gage simple habits without tracking them by writing them down. It's cool to see all of the goals I'm working on paper." Bullet journaling is the perfect way to make the most of this year by staying on top of everything you are working on.