21 Savage may face deportation after fourteen years with an expired visa
Hang on for a minute...we're trying to find some more stories you might like.
  Rapper 21 Savage was taken into federal immigration custody early Sunday morning regarding his expired work visa. The U.K. native, whose given name is Shayaa Bin Abraham-Joseph, entered the U.S. legally in 2005 but has resided in Atlanta illegally since his work visa expired in 2006.
 Savage was arrested as part of a targeted operation involving local and federal law enforcement, according to U.S. Immigration and Customs Enforcement (ICE) spokesman, Bryan Cox. Cox also stated that he is a British citizen who overstayed his visa and has a felony conviction.
 Back in October of 2014, the rapper faced felony drug charges in Fulton County and received twelve years probation. ICE claims they did not know about his immigration status at the time. Abraham-Joseph's lawyer, Chuck H. Kuck, claims the rapper applied for a U visa in 2017, which is a nonimmigrant visa for victims of crimes willing to cooperate with law enforcement during the investigation. Savage was a victim of an attack in 2013 resulting in a gunshot wound and the death of his friend. Kuck also brings attention to the fact that the defendant was brought to the U.S. at age twelve.
 Many fans have commented on the bizarre timing, as the Atlanta based rapper spoke out against ICE and the incidents at the border just days before being taken into custody. Abraham-Joseph altered the closing lyrics of his song "a lot" while performing it on The Tonight Show with Jimmy Fallon on January 28. The same lyric alteration is found at the end of his new music video featuring J. Cole. The new lyrics read as follows: "Been through some things so I can't imagine my kids stuck at the border/Flint still need water/People was innocent, couldn't get lawyers."
  The artist was currently on tour for his most recent album, I Am > I Was, which hit number one on the Billboard 200 album chart. He was also nominated for two Grammys for his work on Post Malone's 2018 song, "Rockstar."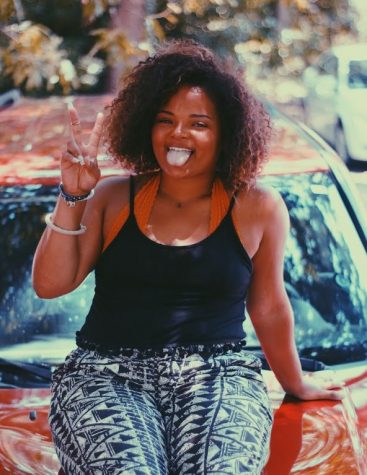 Mikayla Davis, Co Editor-in-Chief
Hey, readers. Welcome to the Cat Talk! My name is Mikayla Davis, and I was born and raised in Raleigh. I am eighteen years old and currently an IB senior...