Remembering Muppets creator Jim Henson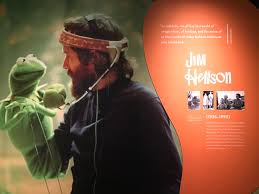 This May 16 is the thirtieth anniversary of the death of Jim Henson, the creator of the Muppets. Born in Greenville, Mississippi, on September 24, 1936, Jim Henson grew up to be one of the most well known puppeteers in America. Not only did he create the Muppets that we know today, but he also voiced one of them; you might know him as Kermit the Frog. He worked as a producer for Sesame Street when the show first aired in the late 1960s. Jim passed away from pneumonia in 1990 when he was only 53 years old. Later this year he would have turned 83. 
  Jim Henson first started working with puppets in his college years and created Kermit the Frog. As mentioned before, he first worked as a producer for Sesame Street in 1969, and it was not until 1976 that he created The Muppet Show. Some other well-known characters that he created include Miss Piggy, the Cookie Monster, and Big Bird. The Muppet Show was originally produced in England and very quickly gained international attention. Both prior to and following his death, there were many movies made that involved these puppet characters created by Henson, the newest one being The Muppets Most Wanted which aired back in 2014. Before his death, he had been discussing selling the Muppets to the Disney Company, which was later finalized in 2004. The trademarks and copyrights of his iconic characters were transferred to Disney. 
  Typically his characters were hand puppets or people in full costume such as Big Bird. However, there were certain movie sequences that used some special effects, and these Muppets were made of sculpted foam rubber, various fabrics, and plastic. For the hand puppets, each one typically took two people since each head or arm was worked by only one hand. Sometimes complicated characters even took up to three people working the Muppets.
  Jim Henson's last words were, "Please watch out for each other." He wanted people to spread their love and forgive others, including yourself. He also believed that it was important that we stop giving ourselves such a hard time and to be in the moment whether that includes joy, anger, or sadness.