Supporting school athletics is still possible during a pandemic
   Sports have been forced to become something where an audience is not present during this past year, but for some, that was an enormous part of the sport. For basketball and football, two sports with a huge amount of fans, their season has been greatly impacted by this loss. For other sports, it has not made a huge change. With the lack of in-person support, athletes may need some encouragement to stay motivated and THERE ARE many ways to do that.
   Most athletes at Millbrook say that the loss of fans in the crowd has negatively affected their season and motivation to play. Families have been allowed to attend home games. While many say this is nice, it is not their ideal situation. Recently, limited fans/students are now being invited to come to games as well as families. Senior Ellie Cypher said that "seniors get first priority" when it comes to attending games in person, but that she "missed getting to see everyone and watch the games in person because watching them on a TV is not as exciting."  This is an improvement, but it still is not as excitement-filled as it was before COVID. Many students feel that fans give their sport an electric atmosphere and thrill when they step on the field. It gives them the motivation to show out and get everyone hyped up. The feeling the crowd gives is what sometimes makes it worth it, and it provides a memorable high school experience that you do not get anywhere else.
    The majority of student-athletes explained that one of the best ways to support our teams is to repost the games and scores on social media. Many others say that making posters and sharing them is nice, so athletes can see the support without having to be physically there. It is also possible now to watch games through a streaming service, but it costs money for a subscription. In professional sports, cut-outs of fans were put around the stands for support, which is certainly a fun option since not everyone can come to fill the stands. Some athletes agreed that sending in signs or posters to decorate the stands would also be a way to show support and give the team's motivation. 
   Without the hype of the in-person crowds and having fans to please, school sports can lose their attraction. Thankfully, crowds are being allowed back slowly but surely, but in the meantime, just sending appreciation and support to your school's athletes can mean even more to them than you would think. 
About the Writer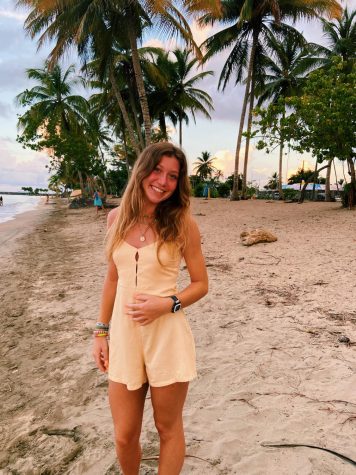 Berkeley Sumner, Section Editor
Hi, y'all! My name is Berkeley Sumner. I am thrilled to be on the newspaper staff for my second year, and for you to read some of my articles. I'm...