Ending the year strong with spring sports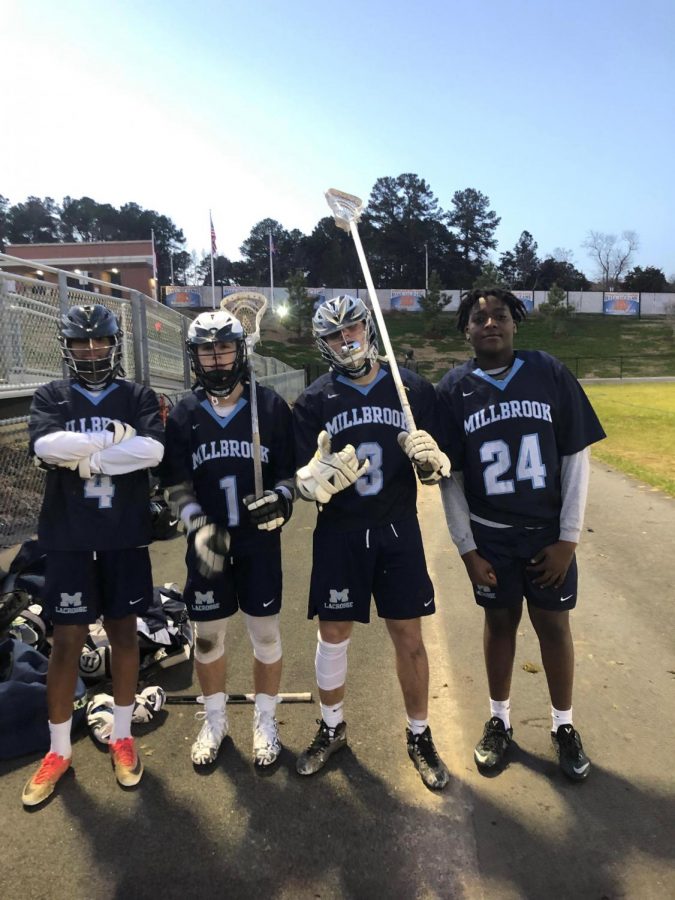 Over the past year, many of Millbrook's sports teams have had great seasons, and this year's spring sports teams have been no exception, thanks to supportive coaches, exceptional players, and devoted fans. From baseball to stunt, Millbrook has had successful seasons in all sports. With this school year ending and summer rapidly approaching, now is a great time to look back on the incredible seasons of Men's Baseball, Women's Soccer, Men's Lacrosse, Women's Lacrosse, Men's Tennis, Track and Field, and Stunt.
Coached by Coach James, Coach Smoak, Coach Tillottson, Coach Christos, and Coach Nobles with manager Kevin Iannucci, Millbrook Men's Baseball have had great seasons on both their JV and varsity teams. Senior Coley Kilpatrick credited their success to the chemistry within the team: "We have a good group of guys that bond well, and I like playing with them. It makes the games more fun." At the baseball games, you can find the bleachers packed with encouraging parents and loving fans rooting for their favorite players and classmates.
Women's Soccer, both JV and Varsity, have also had very exciting seasons! To read more about both teams, check out Sport of the Month on page twenty!
Men's Lacrosse has become significantly more well-known over the years in America, including right here at Millbrook! Both the JV and varsity teams have especially fun games as the boys light up the field and excited students fill up the bleachers to watch. Parker Shoun, sophomore and a captain of the JV team, explained why Men's Lacrosse is the best: "Millbrook lacrosse is a great way to make new friends and have closer relationships with others. It's different from other sports because it makes you work harder. It also teaches you how to be a better person overall!"
As men's tennis popularity grows, Millbrook proudly featured both JV and varsity teams for the first time this year. With the varsity team coached by Mr. Medina and the JV team by Ms. Romano, both tennis teams have proved themselves to be very hard-working and strong team.
Three time champions, the stunt team is a force to be reckoned with. Additionally, they are undefeated conference champs! After football and basketball seasons are over, many Millbrook cheerleaders participate in stunt to stay active around the school!
Women's Lacrosse teams have also proved that they would not be stood up by the boy's teams this season. Playing their games with an indubitable fierceness, their beloved leaders Coach Cope and Coach Segal led them to victory after victory. After making it to the playoffs again this year, there is no denying the power of the players on this team. Sophomore and varsity player Anna Cate Broome said, "I like the intensity of the game and being a part of a supportive, mentally tough team. My favorite part is identifying a flaw, figuring out how to fix it, then executing it, seeing your hard work pay off, and knowing you were a part of it".
Millbrook's coed track and field team excelled this season. Runner Morgan Jurney said, "The track team is super fun to be a part of because it is like one big family with distance, sprints, and field events. Coach Adams is my coach, and he always makes sure that we are all healthy to run and checks in with us a lot!".
Millbrook athletics builds students into phenomenal players and even better people. Coached by Coach Blough and Coach Saby, softball is no exception to this. Jenna Cirillo, a junior and a third-year softball player, said, "Playing softball, I have been able to meet new people who I have become very close with and we all push each other to do better on and off the field."
As you can see, Millbrook students do not mess around when it comes to sports. Even at the very end of the year, it is clear that they work hard every day after school and do not let their commitment slip. If you have never played a sport at Millbrook, spring sports are a great way to go, as you don't have to deal with learning a new sport at the very beginning of the year! In the words of Women's Lacrosse player Ashley Brady recommends her sport, saying, "It's a great sport to try even if you've never played before because the community is great and everyone is so encouraging!".
For students not involved in athletics, I would definitely recommend going to some games next year and seeing all of Millbrook's amazing talent!