A Bachelor season like no other
  During the fall of 2020, The Bachelor franchise named Matt James as the next bachelor, making history since he is the first black male to have this role. Matt gladly took this challenge and set out to find his soulmate on this journey. Not only was he the first black bachelor, but he would be the first bachelor to have never competed on a previous season of The Bachelor or Bachelorette. This brought some hate with him never being on a previous season, but, through all the drama before, during and after the season, Matt has tried to make the most of it and focus on finding love. One thing that is interesting about Matt is that he is a Raleigh native and graduate of Sanderson High School. Being 6'5 and very athletic, Matt played football, basketball, and ran track for the Spartans. This led to an athletic scholarship to Wake Forest University for football. While at Wake Forest, he met his best friend Tyler Cameron, who appeared on Hannah Brown's season of The Bachelorette last year. Tyler has been strongly supportive of Matt during a time he never saw coming. 
  The season started and had a record number of thirty-eight women. Getting time with Matt to build a deep, long-lasting connection would be difficult. Rachel Kirkconnell stood out to Matt, and they fell in love. In the season finale, Rachel is the one that Matt chose and gave the final rose to. Even though he did not propose, they left as a couple who saw a seemingly bright future together. But as the season started to air on television in January, pictures came out about Rachel Kirkconnell from 2018 at a college party. The pictures show Rachel and friends attending an Antebellum South-themed ball, wearing Antebellum-style dresses. These parties celebrate a terrible part of American history during the years before the Civil War. Rachel has come out with a sincere apology and now knows how truly wrong she was to attend such an event. Last night on the After the Final Rose, Rachel spoke in public about her previous actions and is doing what it takes to get herself educated on the topic of racism. Rachel made a mistake and is taking responsibility for them to make herself better. 
  Another major announcement on the After the Final Rose episode last night was Rachel and Matt are no longer together; he could not stay with her after seeing the pictures of her from 2018. Matt and Rachel still share a love for each other, but could not see themselves together after what she did and her not fully understanding her actions. Charlotte Strom, a big Bachelor fan and Millbrook sophomore, said, "It is sad that they broke up because I loved them together, but I hope that this whole situation brings awareness to these parties and how wrong they are." This might be one of the most dramatic seasons in The Bachelor history, with unexpected turns, and will be remembered forever in Bachelor Nation. 
   When the news of this situation with Rachel came out, Chris Harrison (the host of the Bachelor, Bachelorette, and Bachelor in Paradise) made controversial comments about the Antebellum party she attended in an interview with  Rachel Lindsay on Extra. After the backlash of standing up for Rachel Kirkconnell in his interview with Extra, Harrison made a public apology on Good Morning America with Michael Strahan. He now sees how racially insensitive these parties are and is taking time off being the host to educate himself. Harrison did not  appear in the After the Final Rose episode and will not appear in the upcoming Bachelorette seasons. It is unclear when or if he will come back as host, but for now  Tayshia Adams and Kaitlyn Bristowe, two former contestants, will be the stand-in hosts as they start to film the Bachelorette. Despite the drama that has surrounded this season of the Bachelor, hopefully both Chris Harrison and Rachel Kirkconnell have learned from this terrible situation. 
About the Writer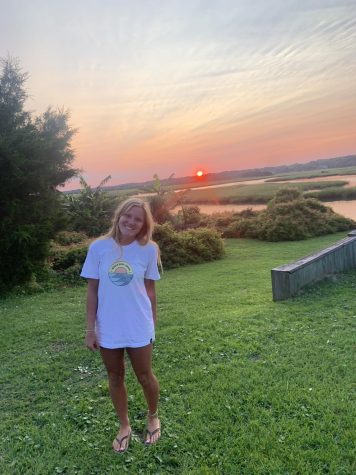 Carter Ramey, Section Editor
Hey everyone, I am Carter Ramey, and this is my second year on the Newspaper Staff. I am looking forward to the upcoming year and hope you are too!  I...