Critic's Corner: Fiction Kitchen
Discovering the plant- based way to do delicious
  Flavor, flavor, flavor! This is what you taste when you take a bite out of a dish at the downtown Raleigh restaurant, Fiction Kitchen. This eclectic and quaint restaurant, known for its bright green exterior, is a fully vegetarian and vegan restaurant that serves delicious and flavorful cuisines for all to enjoy. Whether you are a carnivore or herbivore, you get the opportunity to try the same favorite dishes, but with a meatless twist. Junior Hannah Provencher explained, "I have been a vegetarian for a long time and never once looked back. I love the fact that the food industry is becoming more inclusive to dietary decisions." The restaurant features a wide range of options on the menu from Asian cuisine with their NC peanut noodle bowl as well as a nori sushi roll, and even southern- style entrees to try like the  "chicken" and waffles or the BBQ plate that is fully vegetarian!
 When my mother and I visited Fiction Kitchen, we were immediately greeted with a burst of color. The pop of orange that surrounded the inside made for an interesting vibe throughout the restaurant. The menu was simple to read with many options available. Our waitress, along with the rest of the staff, was wonderful. They had bubbly personalities and happily helped us choose our orders, as we wanted everything. She even gave us a butternut squash soup on the house. I ordered the farmer's market plate, which was a seasonal dish that was a bowl with locally produced potato, butterbean, and carrot dumplings, in a decadent cashew cream tomato gravy. Underneath was basmati rice and dry roasted okra topped with radish and pickled onion. This dish was super delicious, comforting, and warming, perfect for fall! My mother ordered the BBQ plate with soy-based barbecue that replaced traditional pork, and it came with coleslaw, cornbread, roasted vegetables, and a potato that was all vegan. I am not a huge fan of barbecue myself, but Fiction Kitchen's soy-based one was amazing! It was fascinating to taste something that should have been meat but was really soy. For the last course, we ordered the Videri chocolate ganache truffle pie with salted caramel. The only word I could think of after taking the first bite was "wow!" If you are a chocolate lover like myself, this dessert is definitely up your alley. Other desserts featured on their menu were tres leches and even cheesecake varieties of peanut butter and pumpkin. 
  Friday, November 1 is National Vegan Day this year. A great way to get into the spirit or support all the benefits that veganism has to offer is by trying local restaurants like Fiction Kitchen that pride themselves on plant-based cuisine. You do not have to be a vegan or vegetarian to take part in this national day, but it is an opportunity to diversify your taste buds and try something new. Fiction Kitchen is open Tuesday through Thursday from 4:30 to 9:30 pm, and open until 11:00 pm on Friday and Saturday. Brunch is also served only on Sundays from 11:30 am to 3:00 pm. This restaurant is definitely a hit in my book, and I know you will like it too. I am ready to go back to try everything they offer. To check out the rest of their menu and see what other delicious foods they have, go to http://thefictionkitchen.com/ to check out more! 
About the Contributor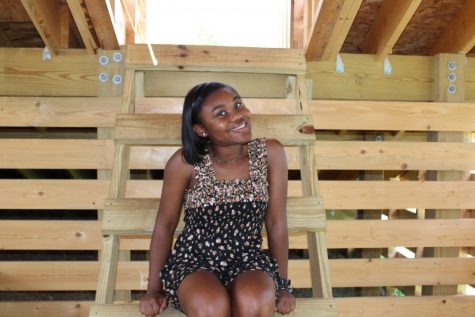 Justine Hooker, Section Editor
Hey, y'all! I'm Justine, and I am a senior this year at Millbrook. It is so great to be writing for the Cat Talk for my third year! At school, I am a part...