Critic's Corner
A modern spin on Grandma's cooking
As someone who is not native to North Carolina, the concept of southern food used to conjure up images of Cracker Barrel off of I-95 or Bojangles Famous Chicken n' Biscuits. Never having tasted southern food in its traditional, elevated form, I bought into the fallacy that biscuits, BBQ, or any southern delicacy for that matter, was not for me. However, I have grown to appreciate the authentic southern cuisine the Triangle has to offer. Through industrialization and urbanization, restaurants such as The Pit, Beasley's, and more recently, Driftwood, seamlessly captures what it means to serve authentic, southern cooking.
Located within the up-and-coming Lafayette Village shopping center, Driftwood Southern Kitchen is the latest addition to North Raleigh's blossoming dining scene. Although many stores had been in and out of the ambitious space, Driftwood is sure to be there for good. When customers first arrive at the facade, they are greeted by floor-to-ceiling accordion doors and an auxiliary dining room. The atmosphere of Driftwood is just as welcoming, with a unique balance of modern-rustic and farmhouse-chic decor: reclaimed wood tables, mason jar centerpieces, chalkboard menus and a recurring motif of barnyard animals.
The key to Driftwood's seasonally-changing menu is the perfect balance of grandmother's comfort food and upscale, innovative cuisine. Replaced by a basket of bread, a wire basket of pork rinds accompanies every table. By virtue of popularity, I had no choice but to order the cheese biscuits – and they far exceeded my expectations. The keystone hors d'oeuvre was topped with sweet butter with notes of maple syrup to contrast the savory sharp cheddar. The family-style main course consisted of hearty St. Louis ribs, crispy buttermilk fried chicken, and the essential southern sides: mash potatoes, sausage gravy and mac n' cheese. Despite the small mix-ups with our order, the service was exceptional, presenting the southern hospitality you would expect when eating such regional fare. Junior Alexis Pasca has been eating at Driftwood since they first opened: "I love the warm, southern charm. Not to mention, the service is great."
Driftwood claims that breaking the bread at the table should be a fun and soul satisfying experience. It is the communal character, hospitable service and outstanding cuisine makes Driftwood the soul-satisfying experience that they set out to be.
About the Contributor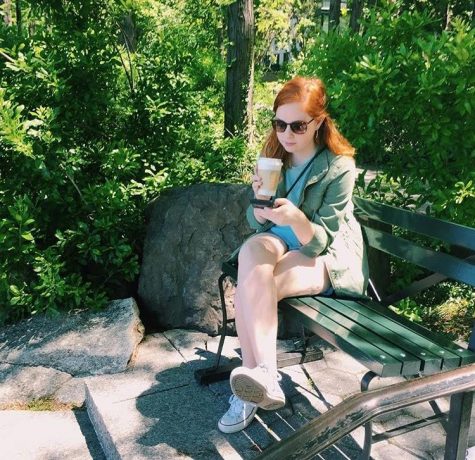 Emily Ficker, Section Editor
Cat Talk reader:

thank you for checking out my profile. To tell you a little bit about myself, I am a second-year Newspaper student as well as the...