Sport of the Month: Varsity Cheerleading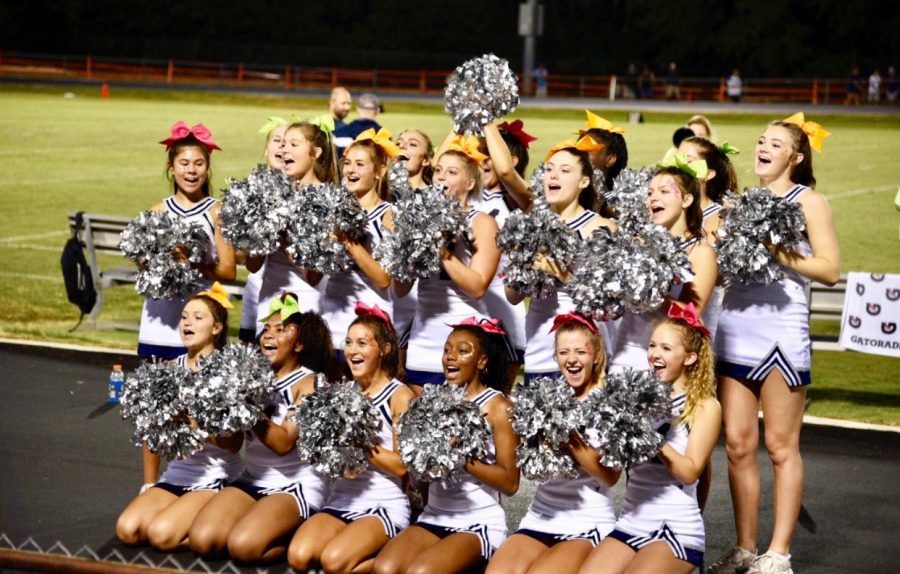 The cheerleading team is always at the forefront of every game. They are known within the school walls as the most supportive and enthusiastic members of Millbrook. What many students do not know, however, is that there is a lot of hard work which goes in to being the faces of MHS. What takes place behind the scenes of the loud cheers and smiling faces presented to the Millbrook student body at basketball and football games? 
  Well, readers, imagine being in the presence of a tightly-bonded, extremely supportive group of girls. In the words of senior captain Aliya Ward, "Cheerleading is a 7-month sport, but we choose to be together for all 12. I'm so thankful for my teammates!" These ladies practice their routines and techniques nearly every day and also go to tumbling practices to further their skills. They are together for countless hours, a factor which likely contributes to the fact that they are so close. Most students see this team together only on Friday nights or on nights of basketball games, but like Aliya said, they choose to spend time together far more than just at cheer events. Junior Katherine Pair echoes her teammates feelings; "The cheer team is like one big group of friends, and practices are where we grow closer. Especially this year, we've worked so well together and have gotten along amazingly. Sometimes it's hard not getting appreciation from the teams we cheer for, but when they recognize our hard work it feels great." 
  While cheerleaders are sometimes not appreciated for the work they put in, they truly give so much to Millbrook. Imagine a football game without the hype of "Tilt me" or "Jam." The cheerleaders are not only the backbone of the Maniacs and the teams they cheer for, they have also been very successful in their past competitions. The current Varsity team is almost exactly the same team which competed in the 2017-2018 season and took home first place at the Junior Varsity North Carolina state and county competitions. Their success can be attributed to many factors, including hard work and practice, but "not being a sport," as many haters like to say, is not among them. With the level of closeness that these women have reached, their determination at practice, and their support for one another, there is no reason that this group of girls cannot win at the state competition once again! So, next time you see a cheerleader, tell them that you appreciate all that they do.